The Top Shopping Destinations in Guangzhou inc. Markets, Malls and more
Whether your'e an international trader or a traveler, Guangzhou offers something for everyone from budget through to high end luxury, so let's see where the action is. Here's a list of Guangzhou's top shopping markets, malls and shopping streets.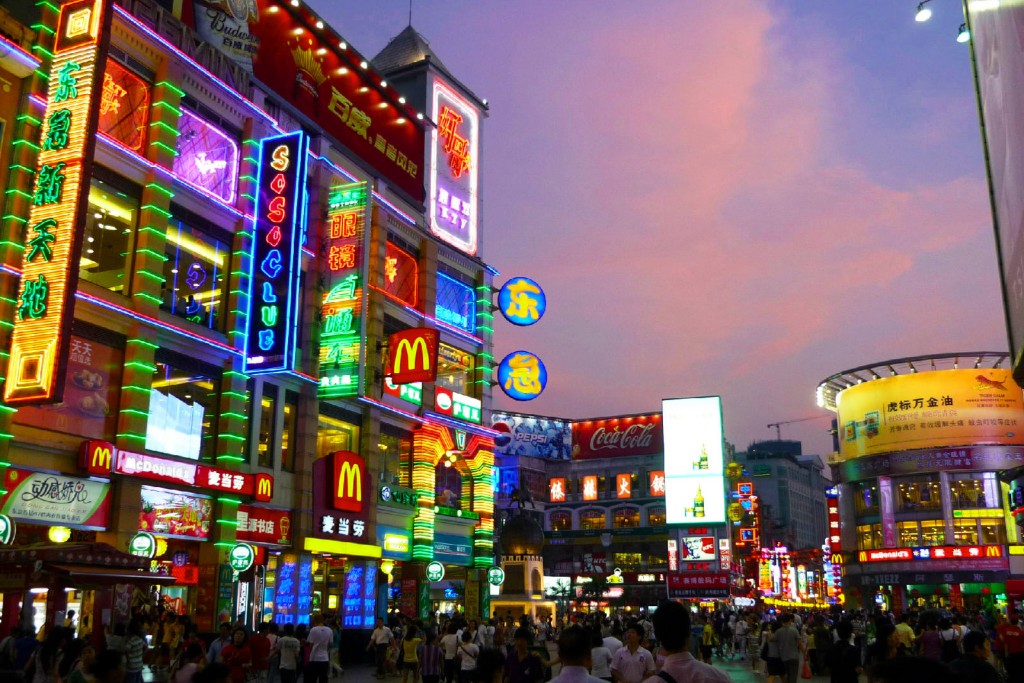 Shopping Streets
Beijing Road 北京西路
Beijing Road (Beijing Lu) is located in the center of Guangzhou. Simply get off at Gongyuan Qian Station. The range of goods is diverse, you can find just about anything.
Address: Beijing Lu – Gongyuan Qian Station
Shangxiajiu Pedestrian Street 上下九步行街
The most famous, and most popular pedestrian shopping street in Guangzhou, it also has a rich history.
Address: On the junction of Shangjiu Road and Xiajiu Road 荔湾区上九路、下九路、第十甫路
Haizhu Square 海珠广场
Haizhu Square has a huge wholesale/flea market where you can find toys, souvenirs, electronics, dried food, household items, clothes, lamps, artificial flowers and much more.
Address: 10 Nanzhou Road, Haizhu District 海珠区南洲路10号
Zhuangyuan Fang 状元坊 read more
It's not huge , but popular with the younger crowd featuring fashion, ornaments and trinkets.
Address: Zhuangyuan Fang, Renmin Nan Lu (人民南路状元坊)
Huale Road 华乐路
Huale Lu features many boutique fashion retailers.
Address: Huale Lu is just behind the Garden Hotel
Nonglinxia Xialu Commercial Street 农林下路商业街
Nonglinxia Lu Commercial Street is the largest commercial district in Dongshan District. Most commodities are priced in middle range. The main commodities in the street are clothes, shoes, bags and characteristic snacks.
Address: Nonglinxia Road, Dongshan District, Guangzho (广州市农林下路)
Popular Front 流行前线
Popular Front offers all kinds of snacks from Japan, America and Taiwan. Numerous fashion products can meet the demands of those people interested in Japanese and South Korean fashion.
Address: No.25-27, Zhongshan Road, Yuexiu District (越秀区中山路25-27号)
Gifts
Xiguan Antique Street 西关古玩城
The market has many shops for collectors and sells everything from ceramic teapots to Tibetan rugs.
Address: No.88 Wenchang Nan Road, Liwan District
Qingping Market 清平市场
A popular local market where you will find lots of stalls selling food, herbs, seafood, birds, pets, flowers, plants and more.
Address: 92 Qingping Road, Liwan District
Jade Street 玉器街
Lots of small shops selling jade items.
Address: Changshou Lu (长寿路) and Wenchang Lu (文昌路)
Yuansheng Ceramic and Jade Craft Street 源胜陶瓷玉石工艺街
Yuansheng Craft Street is where you will find thousand stores offering crafts including Jingdezhen china, Yixing dark-red enameled pottery, Fujian shoushan stone, Burma jade and more.
Address: North Wenchang Road, Liwan District 荔湾区文昌北路
Electronic products
Haiyin Square (海印广场)
is the most famous one for electronic products in Guangzhou.
Address: No.21, Dashatou Road, Yuexiu District(越秀区大沙头路21号)
Haiyin Computer City (海印电脑城)
Address: No 56-58, Donghu Road, Yuexiu District
Computer markets at Ganding Station
There are several computer shopping malls in this circle, and the main ones are Tianhe Computer Mall (天河电脑城, at 502 Tianhe Road), Buynow Computer Mall (百脑汇), Pacific Digital Plaza (太平洋电脑城), Guangzhou Computer Mall (广州电脑城), and EGO Digital Plaza (颐高数码广场).
Address: Gangding Computer and Digital Shopping Circle is located in Tianhe District, you can take subway line 3 and get off at Gangding Station (岗顶站).
Textile and Leather Markets
Zhongda Cloth Market 中大布场
Zhongda Cloth Market is the largest distributing center for cloth in Guangzhou now. Cloth, knitting wool and garment ornaments in all grades are all available there. The goods there feature affordable, complete and fashionable, and the market is really popular in Guangzhou.
Address: Ruikang Road, Guangzhou, China (广州市瑞康路)
Tianxiong Textile Village 天雄纺织城
Tianxiong Textile Village is a large terminal market for all kinds of cloth, including knitting, chemical fiber, cotton weaving, linen, and silk made in home and abroad. Even leather and garment ornaments are also available there. It is a prosperous market gathering more than 700 enterprises.
Address: Dechang Road, South of Guanghzou Avenue, Guangzhou (广州市广州大道南德昌路)
Zhong'ao Trade City for Leather Products 中澳商贸城
Zhong'ao Trade City is a market for leather products. The trade city is quite near Guangzhou Bus Station, Railway Station and Baiyun International Airport. Generally speaking, the leather products there are in middle or high classes. Customers and merchants from the world can enjoy their shopping in the two-story market building.
Address: No.1107-1111, Jiefang Bei Road, Guangzhou (广州市解放北路1107-1111号)
Wedding Dress Shopping Street 婚纱一条街 read more
In Guangzhou there is a street specializing in selling wedding gowns, wedding shoes and related products. They are available for rent, retail and wholesale. It is the largest wedding dress market in Guangdong Province. The style, quality and price cover a wide range, from traditional Chinese to western wedding dresses.
Address: North of Jiangnan Avenue, near Zhujiang Bridge
Baima Market 白马服饰批发市场 read more
There are several clothing market buildings around the railway station, including Huimei International Clothing Market (read more) Tianma (next to Baima and famous for domestic brand clothes), Xindadi (opposite Baima), Zhanxi Lu (a shopping street of many wholesale markets, especially shoes), Hongmian Bubugao (located behind Baima and famous for women's clothing) the most popular one though is Baima which is located opposite Guangzhou Railway Station
站南路16号(近广州火车站)
Tea Markets
Nanfang Tea Market 南方茶叶总汇
Here you can find all types of tea, tea sets and accesories. It's quite lareg, featuring over 300 stores.
Address: No.8-10, Qishi Road, Fangcun District (广州市芳村区洞企石路8-10号)
South Tea Market 南方茶叶市场
Another large tea market where you'll find anything tea related.
Address: No.12 Yongning Street, Liwan District 荔湾区永宁街12号
Art
Redtory – 红专厂
It is a very trendy and artsy district with lots of restaurants, book store/ coffee shops and outdoor tables.
Address: No.128 Yuancun Siheng Road, Tianhe – 天河区员村四横路128号
Shopping Malls
Taikoo Hui 太古汇 read more
No.383 Tianhe Road, Tianhe District, Guangzhou, China -天河区天河路383号
Zhujiang New City Shopping Plaza 广州珠江新城广场 
Address: No.302 West of Huangpu Road, Tianhe 天河区黄埔大道西302号
Tianhe City Mall 天河又一城 
Various intl brands like Sephora, Zara, to local boutiques, supermarket and dept store. Many restaurants both Western and Chinese.
Address: 54 TiYu Xi Lu   体育西路54号人防南段(近体育西地铁站)
Onelink International Plaza 万菱广场 
Address: 39 Jiefang South Rd, Yuexiu 解放南路39号
China Plaza 中华广场 read more
9 floors of nicely designed boutiques, restaurants, coffee shops, with the top two floors being restaurants only – affordable & excellent for lunches or dinners.
Address: No. 3 Zhongshan Street 中山三路
Wanda Plaza 万达广场(云城东路)
Hilton Baiyun. There is a great range of shops incl Walmart (perfect to buy water and snacks at very cheap prices). Also h&m, McDonald's, pizza hut etc. Also a range of good quality asian food.
Address: 505 Yun Cheng Dong Lu – 云城东路505号万达广场内(近沃尔玛)
The Friendship Store 友谊商店(正佳) read more
The Friendship store in Guangzhou, China is in downtown city and next to the bus station whereby buses go to Kowloon, Hongkong.
Address: 228 Tian He Lu Hao  – 天河路228号正佳广场西南方1-3楼
Fashion Tianhe commercial Plaza 时尚天河商业广场 
Located at Guangzhou Tianhe Sports Center on the ground floor featuring shopping, dining, recreation, entertainment, landscape in a large underground commercial plaza.
Address: TianHeLu 299Hao Jin DiTie TiYuZhongXinZhan 天河路299号(近地铁体育中心站)
Happy Valley 太阳新天地购物中心
The sun Xintiandi shopping center , or Happy Valley, is located in Tianhe District on Huangpu Avenue, the traffic is quite convenient.
Address: No.36 Machang Road – 马场路36号
Find even more shopping malls and markets by category: