Popark Shopping Mall
Located in the most prosperous Tianhe North CBD business area, Popark Shopping Mall is adjacent to the adjunction of Metro Line 1 and Metro Line 3, making it one of the most convenient and popular malls in Guangzhou. It's also very convenient to reach to the Guangzhou East Rail Station from here, making the mall even more attractive.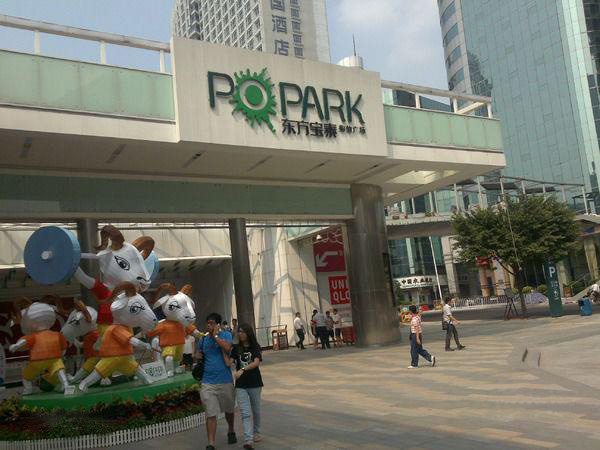 Possessing of a total business area of 150,000 square meters, Popark provide the one-stop shopping experience, covering leisure, retail, dining, entertainment and beauty service. You can always easily get whatever you want here. With the hearty service, here attracts many local customers and tourists.
Popark Shopping Mall also provides many international fashion brands for young trendy people, including I.T, Levi's, Nicoli, Uniqlo, Selected, Staccato, M&M, Only, Bossini, Ebase, LeeCooper, Only and Calfland. You can always find suitable clothes at a reasonable price here.
There are almost 20 restaurants here, the flavor of which ranging from East to West. The restaurants include famous fast food chains, such as KFC and Pizza-Hut; Asian Cuisine Restaurants such as Ajisen Ramen and Aji Ichiban; as well as some upscale Chinese Cuisine Restaurants. There are plenty of dining choices here.
What can you get there: cosmetics, jewelry, fashion clothes, watches, electronic goods and much more.
Website: www.popark.com.cn
How to get there:  Metro Line 1, Guangzhou East Station.
Address: Numb 63, Linhe Centre Road, Tianhe District. 地址:天河区林和中路63号
Map Location featuring hotels near Popark