Wende Lu Culture Street 文德路文化街
Known as "Guangzhou Art Gallery", Wende Road (Wende Lu 文德路文化街) is a culture bazaar, selling artworks, calligraphy, and crafts. If you are interested in Chinese Culture and want to buy some Chinese Painting or Antique in Guangzhou, then a stroll through all the shops on Wende Road is probably in order.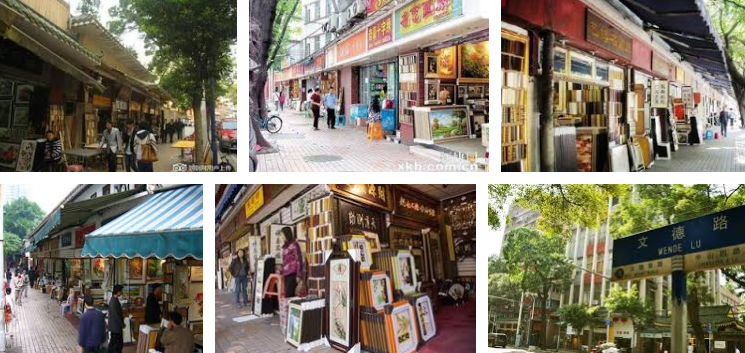 The bazaar is full of exquisitely decorated artworks of calligraphy and painting ranging from classical Chinese mountain and water paintings to oil abstract painting by famous western artists. Walking through the road, you are entering a world of art.
You can also find abundant African wood carvings and dried flower artworks here. All these artworks make the bazaar full of exotic flavor. Besides, there are many traditional Guangdong cultural boutiques here, such as embroidering, Foshan ceramics, and Kung Fu tea set from Shantou.
What's more, there is a Culture and Arts Expo Trade Center here. Possessing of a total business area of 10,000 square meters in a 6-storey building, this center provides all kinds of collections, antique identification service and a sale-room for antiques. Besides, many good restaurants can be found here.
Also, check out Oriental Wende Plaza at the cross of Wenming Lu and Wende Lu which is a new cultural hub and is home to the Guangfu Culture Research Center.
What can you get there: Calligraphy, painting, crafts, antique
Av Spend: about 300RMB per person.
Website: no official website
How to get there:  Metro Line 1, Peasant Movement Institute Station.
Address: Wende Road, Liwan District. 地址:荔湾区文德路
Top nearby hotels: Howard Johnson Riverview, Hotel Canton, or the Fuhao Hotel.
Map Location featuring hotels near Wende Road, Guangzhou