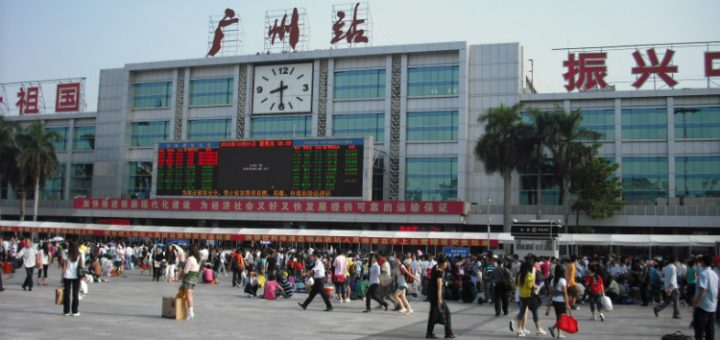 Guangzhou Railway Station is a major transport hub in the Guangdong region providing access to high-speed rail services to Shenzhen (C type intercity trains), slower K & Z type trains to other provinces, intercity coaches, and a metro station for line 2 and 5. The area surrounding the station is also renowned as being a hub for wholesale fashion trade.
For intercity travel, it's expected that most people will head to the newer Guangzhou South Station or Guangzhou North Station which offer the newer high-speed G type trains to other cities and provinces which drastically slash travel times. GZ South Station will also offer high speed rail services into Hong Kong.
The exception to this is if you are traveling to Shenzhen and are located nearby to this area. The C type train that heads from this station (and Guangzhou East Station) to Shenzhen is fast and modern. It's also more convenient than heading all the way to Guangzhou South Station. At the Shenzhen end, this stations line terminates at Luohu which is also far more convenient in most cases than arriving at Shenzhen North Station/Futian Station if Luhou is actually your final destination.
Train Schedule
Destinations
Schedule
Duration
Ticket Price (RMB)
First Class/Second Class
Shenzhen
18 departures from 06:00 to 22:25
1h 28m – 1h 39m
99.5/79.5
Beijing West
3 trains at 08:28, 15:02 and 16:20
21h 24m- 29h 58m
795/456
Shanghai South
3 trains from 07:45 to 14:55
18h 17m- 23h 39m
673/367
Wuchang
26 departures from 08:11 to 22:28
10h 44m- 15h 8m
470.5/283.5
Nanjing
2 trains at 07:45 and 09:00
23h 55m- 24h 31m
741/428
Chongqing North
8 departures from 11:50 to 17:47
21h 59m- 31h 16m
769/388
Chengdu
3 trains from 11:40 to 16:26
27h 53m- 38h 14m
749.5/491.5
Xian
7 departures from 08:22 to 20:20
21h 51m- 28h 26m
741/428
Chinese Name: 广州站(中国铁路车站)
Address: No. 159, Huanshi West Road, Yuexiu District, Guangzhou, Guangdong, China 广东省广州市越秀区环市西路159号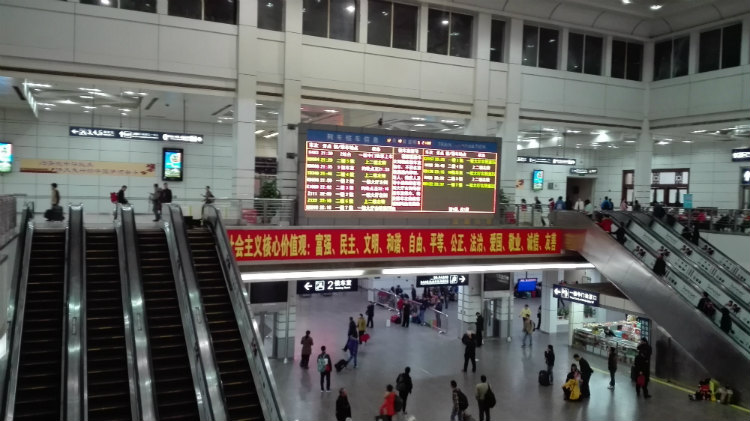 Getting to Guangzhou Railway Station
Metro
Guangzhou Metro station is located below Guangzhou Railway Station. It is the interchange station of Metro Line 2 and Metro Line 5. Passengers can take the subway to all districts of Guangzhou. In the future, there will be Line 11 and Line 14 of the second phase of the Guangzhou Railway Station.
Public Bus
Railway Station Bus Station – 30, 31, 52, 52 express line, 201, 210, 228, 254, 257, 529, 550, 552, 803a, 803, 805 short line, 805, 807a, 807, 840, 862b, 862, b10, b2a, b2, 21 express line, 43 express line, 60 express line, Guang 275, Night Bus Line (11, 18, 25, 41, 94, 96, 98)
Taxi
A taxi from the CBD (Tianhe) to Guangzhou Railway Station will take around 20 minutes and cost 35 RMB (Noting that Guangzhou East Station is much closer)
Intercity/Long Distance Bus
Guangzhou Provincial Long-Distance Bus Station (广东省汽车客运站) is located a short walk from the station and is also connected via the underground passageways. Routes service major cities in Guangdong and other provinces including Guangxi, Guizhou, Hunan, Hubei, Henan, Shanxi, Jiangxi, Zhejiang, Liaoning, Jiangsu, and Fujian.