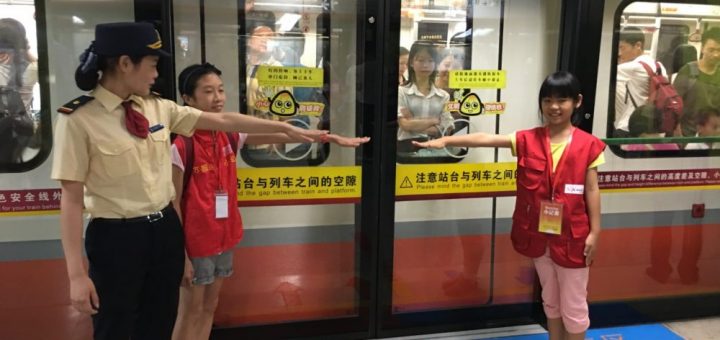 The Guangzhou Metro is modern, efficient and cheap, and it is one of the most convenient ways to move around the city. As of 2018, the Guangzhou Metro has a total of 13 operating lines with a total length of 391.6 kilometers and 207 operating stations. The operation of all routes is operated by the Guangzhou Metro Railway Corporation.
The metro utilizes a staged fare system and the price of the tickets range from RMB 2 to 12. The longer the journey the more you pay.
The Guangzhou Metro system consists of 13 lines which include:
Line 1: The Line 1 runs from Xilang, has 16 stations and connects to the East Railway Station.
Line 2: Running north to south with 24 stations it connects Guangzhou Railway Station and the South Railway Station.
Line 3: The airport line, connecting to the CB and Panyu.
Line 4: runs from Huangcun to Jinzhou
Line 5: runs from Jiakou to Guangzhou Railway Station, through important shopping and business districts, to Wenchong.
Line 6:  runs between Xunfenggang and Xiangxue.
Line 7: a connector line that joins South Railway Station to Chimelong Tourist Resort (line 3) and the Higher Education Mega Center South (line 4)
Line 8: connects Fenghuang Xincun and Wanshengwei.
Line 9: connects Gaozeng and Fei'eling (Guangzhou North Railway Station is on this line)
Line 13: connects Yuzhu and Xinsha
Line 14: Xinhe to Zhenlong
Guangfo (Guangzhou-Foshan Line): connects Guangzhou City and Foshan City.
APM Line: an automated line that acts as an underground shuttle for the CBD of Zhujiang New Town.
Here is a large map of the 2018 Guangzhou metro network (click for larger image)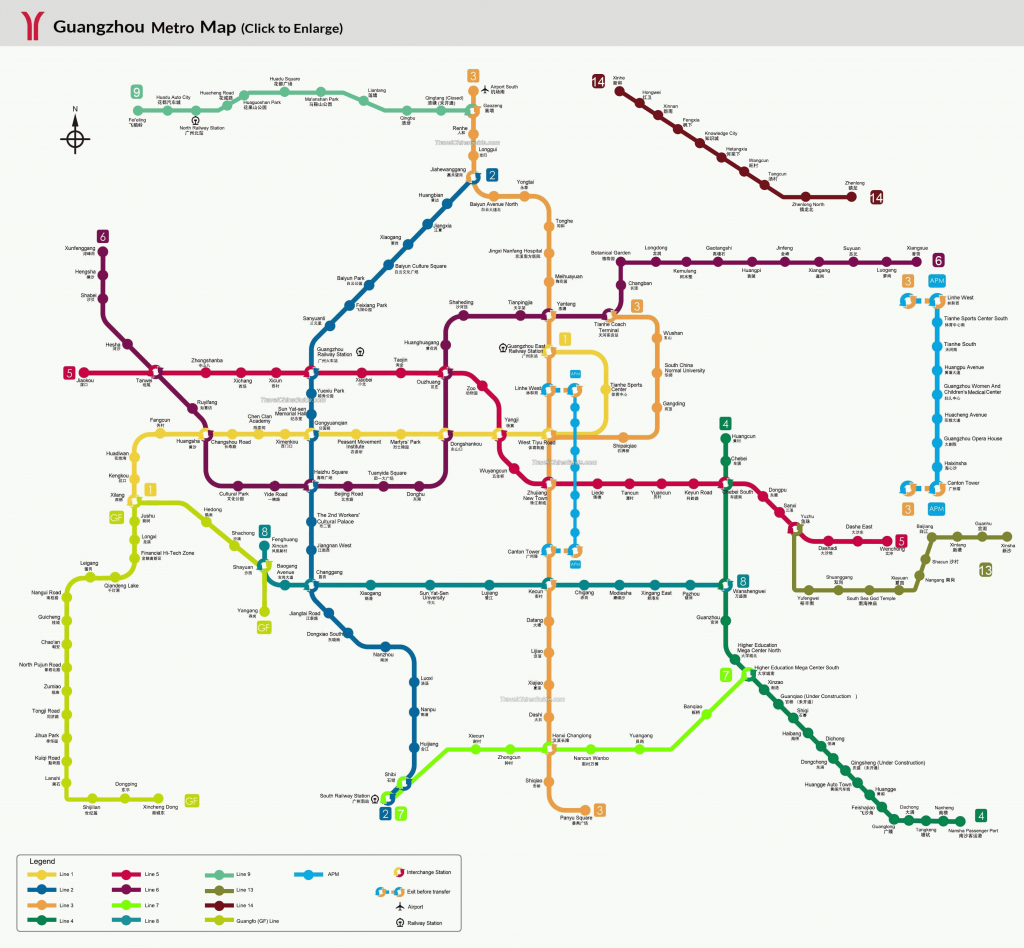 Line
Type
Start and stop site
First train
last train
Guangzhou Metro Line 1
————-
Serang
6:00
22:55
Guangzhou East Railway Station
6:10
23:30
Guangzhou Metro Line 2
Long line
Guangzhou South Railway Station
6:00
23:30
Jiahe Wanggang
6:00
23:35
Short line
Jiangtai Road to Sanyuanli (7:30 to 9:30 am on weekdays)
Night car

Jiahe Wanggang to Guangzhou South Railway Station to Guangzhou South Railway Station 23:45

Guangzhou South Railway Station to Jiahe Wangang to Jiahe Wanggang direction 23:45, 0:00

Guangzhou Metro Line 3
Main line
Panyu Square
6:00
22:55
Tianhe Bus Station
6:10
23:30
North extension
Sports West Road
6:00
23:30
Airport north
6:00
23:15
Short line
Tonghe to the stone direction Panyu Square (working day 7:34 to 8:37, a total of 8)
Night car
Airport North to Sports West Road towards Sports West Road 23:15
Guangzhou Metro Line 4
Long line
Nansha Passenger Port
6:00
23:30
Huangcun
6:00
23:15
Short line
Huangcun to Xinzhi (same long line)
Guangzhou Metro Line 5
Long line
Pass
6:15
23:15
Wen Chong
6:00
22:55
Short line
Sanxi
6:15
23:03
Wen Chong
6:15
23:30
Guangzhou Metro Line 6
————-
Fengfenggang
6:00
22:50
Xiangxue
6:00
22:50
Guangzhou Metro Line 7
————-
Guangzhou South Railway Station
6:00
23:30
University town south
6:10
23:15
Guangzhou Metro Line 8
————-
Phoenix New Village
6:15
23:40
Wan Shengwei
6:00
22:55
Guangzhou Metro Line 9
————-
Fei Geling
6:00
22:30
High increase
6:06
23:15
Guangzhou Metro Line 13
————-
Fish beads
6:15
22:50
Xinsha
6:00
22:30
Guangzhou Metro Line 14
————-
New and
6:10
22:10
Zhenlong
6:00
22:00
Guangzhou Metro APM Line
————-
Guangzhou Tower
7:00
23:30
Lin and West
7:00
23:30
Guangfo line
————-
New city east
6:00
22:30
Yangang
6:08
23:06
Using the Guangzhou Metro
Step 1. Enter the station and purchase a ticket from the ticket vending machine. They are dual language, Chinese and English. Machines accept 1 CNY coin and 5 and 10 CNY notes. Take note of the line number and the direction in which you need to travel, in other words, what is the terminus station you need to head towards to get to your destination.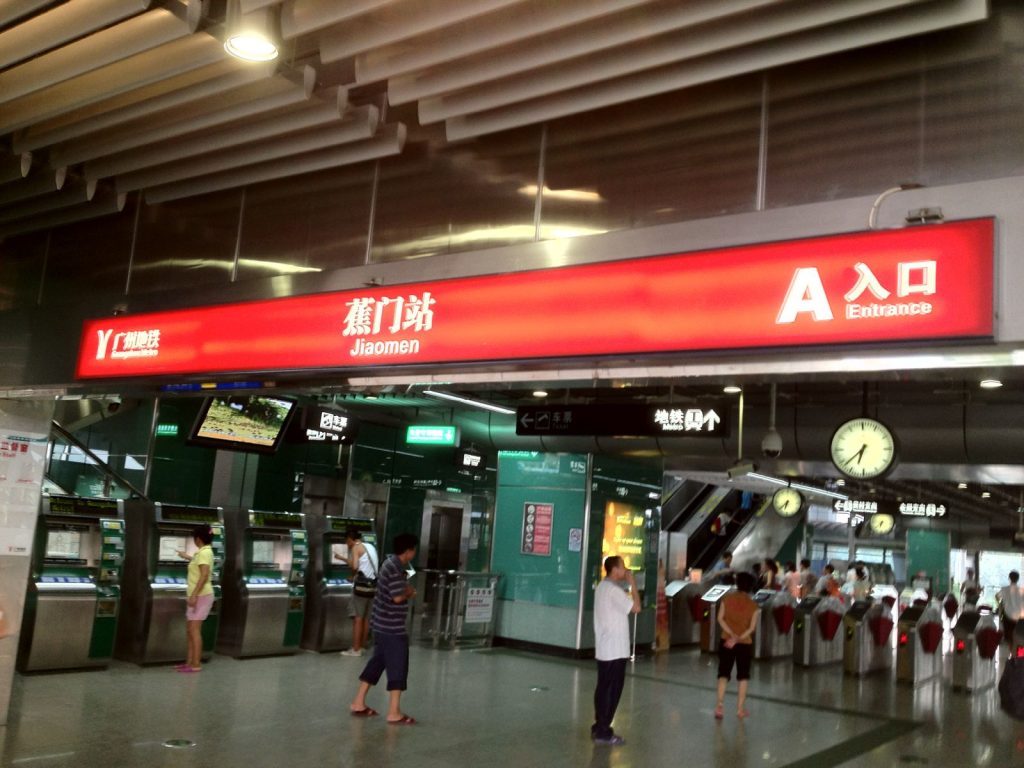 Step 2. Using your ticket, wave it at the turnstile and enter ticketed area. Find the entry for your line and for the directing you are traveling. Signs on the entry to the train boarding platform with display Line number and the terminus station.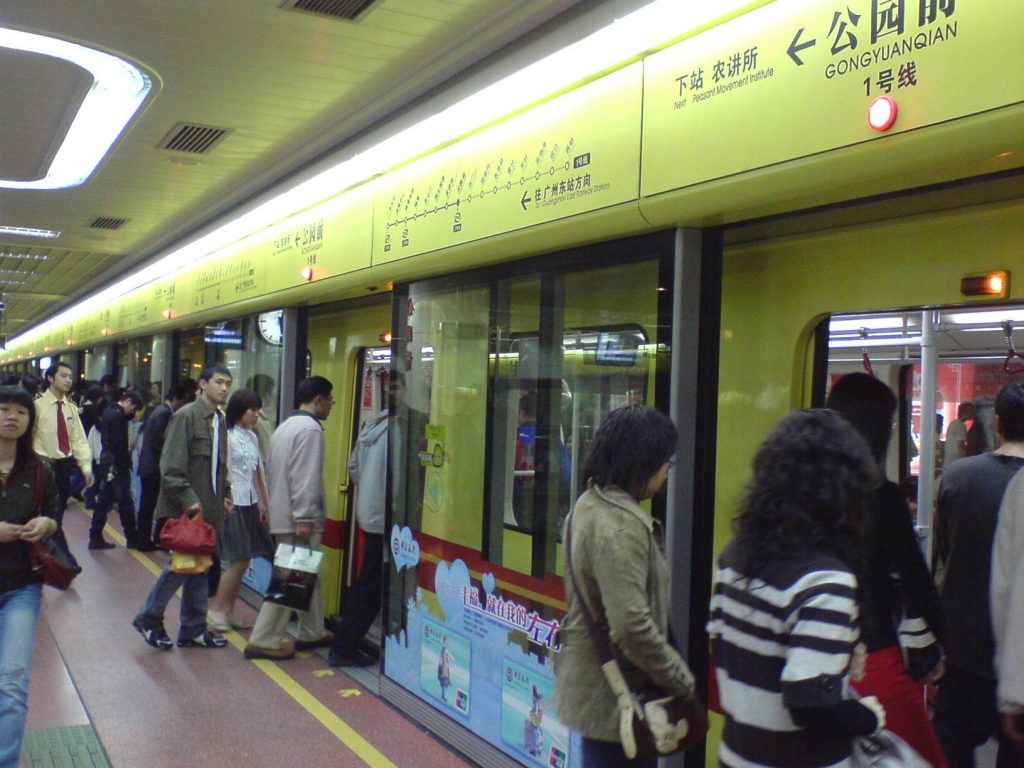 Step 3. It can be mayhem during peak travel periods, with large crowds but the best advice is to go with the flow, and accept the different cultural mannerisms. Whilst on the train listen and watch for your station and prepare to get off.
Step 4. depart the train and look for the correct exit that is closest to your destination. Choosing the wrong station exit can mean a long walk sometimes.
Chinese Name: 广州地铁
Official website: http://www.gzmtr.com
Future Construction and Planned Routes
Metro Lines
line

project

Interval

mileage

(km)

Number of stations

Train formation

Opening time

status
Line 3
East extension
Panyu Square – Haitang
9.6
4
——-
2022
under construction
Line 4
Unopened station
Guanqiao
—-
1
4L
2022
To be opened

Line 5

East extension

Winchong – Huangpu Passenger Port

9.7

6

6L

2022

under construction
Line 6
Unopened station
Shahe
—-
1

4L

2020
To be opened
Line 7

Second phase

University City South – Water Northwest

21.8

11

6B

2022

under construction
Xiyan (Shunde) section
Guangzhou South Railway Station – Mei Avenue
13.64
7
6B
2020
Prepared

Line 8

Extension cord

Phoenix New Village – Cultural Park

1.8

2

6A

2018

under construction
North extension
Cultural Park – Heart
16.1
14
6A
2018
under construction

South extension

Wanshengwei-Haicang

22.8

12

6A
——–
planning
South extension branch line
Hualong-Huangpu Passenger Port
9.1
3
6A
——–
planning

North Extension Phase II

滘心-Guangzhou North Railway Station
20
9
6A
2023
planning

Line 10

—-

Shipai Bridge – Serang

19.6

15

6B
2022
under construction

Line 11

loop

43.2

32

8A

2022

under construction
Line 21 borrowing segment
Village – Tianhe Park
2
2

6B

(reservation 8A platform)

2018
under construction

Line 12

—-

Fengfenggang-University City South

35

24

6A
2023
Prepared

Line 13

Second phase

Chaoyang – fish beads

33.8

20

8A

2021

under construction

Line 14

First period

Jiahe Wanggang-Street

54.1

13

6B

2018

under construction
Second phase

Guangzhou Railway Station – Jiahe Wanggang

11.6

7

6B
2020
under construction

Phase III

Jiekou – Liangkou

4

6B
——–
planning

Line 15

Nansha Loop

30.5

12

——-
——–
planning

Line 16

—-

Xintang-Yucheng North

31.7

8

——-
——–
planning

Line 17

—-

Zijing-Guangzhou Automobile Base

28.5
12
——-
——–
planning
Line 18
First period
Guangzhou East Railway Station – Wanqingsha
62.5
9
8A
2021
under construction
South extension
Wanqingsha-Zhongshan Station
—-
—-
8A
——–
planning
North extension
Baiyun Airport – Guangzhou East Railway Station
—-
—-
8A
——–
planning

Line 19

—-

Suiyan Road – Olympic East

—-

21

——-
——–
planning

Line 21

Phase one
Tianhe Park – Zengcheng Square
61.6
21
6B
2018
under construction
Line 22
First period
Wanqingsha – Baietan
31.8
8
6B
2021
under construction
Line 23
—-
Jingxi Nanfang Hospital – Botanical Garden
5.8
4
6L
——–
planning

Guangfo line

After the first period

Yangang-Lei

5.36

3

4B

2018
under construction
Phase III
Meteorite-Leconne
—-
4
4B
——–
planning
Intercity Lines
Serial number
Guangzhou line
Other city routes

Opening time

1
Guangfo Metro

The remaining part of the post-section is under construction

2
Line 2, Line 7, Line 22
Foshan Metro Line 2

under construction

3

Line 7

Foshan Metro Line 3

Foshan Metro Line 10
Foshan Metro Line 11

4

Line 2, Line 3, Line 7, Line 18
Foshan Metro Line 4

planning

5

Line 5, Line 11
Foshan Metro Line 5
6
Line 5 and Line 13

Dongguan Metro R1 Line

7
Line 10, Line 11
Foshan Metro Line 11
8

Line 12 and Line 13

Foshan Metro Line 8
9
Line 16
Planning extended to Huizhou

10

Line 17

Foshan Metro Line 9

planning

Foshan Metro Line 11

11
Line 18
Zhongshan Rail Transit Line 1
12
Line 19
Foshan Metro Line 6
Foshan Metro Line 10