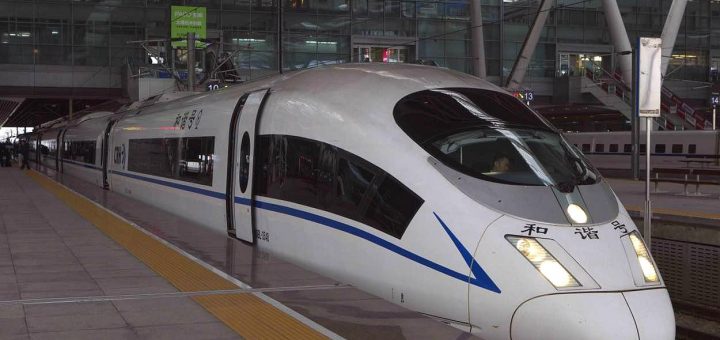 Guangzhou South Railway Station (广州南站 – Guangzhounan), is located in Panyu District, Guangzhou, Guangdong Province. It is a large, modern railway passenger station, the largest and busiest in Southern China, that services high-speed G series trains (gaotie) to almost all regions of China, inc. Beijing, Shanghai, Wuhan, Shenzhen, and Hong Kong.
It is part of the Guangzhou Railway Passenger Transport Hub, one of the four major railway passenger transport hubs together with Guangzhou Railway Station, Guangzhou East Railway Station, and Guangzhou North Railway Station. It is also known as "New Guangzhou Station" as it is intended for it to become the city's major rail station.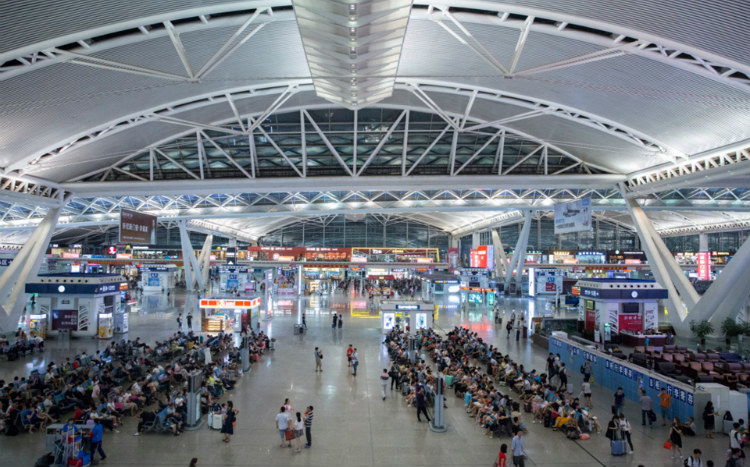 The high-speed railway station is a core station of Guangdong, Hong Kong, Macao and the Pan-Pearl River Delta network servicing the major lines including
Beijing-Guangzhou high-speed railway
Guangzhou-Shenzhen-Hong Kong high-speed railway (XRL)
Guiguang high-speed railway
Nanguang railway
Yuexi coastal railway
Guangzhou-Zhuhai railway
Guangzhou South Railway Station ranks first in the country in terms of passenger numbers, surpassing Shanghai Hongqiao Station and Beijing South Railway Station. During the May holiday season 2018, the station saw 1,672,300 passengers, with an average daily arrival of 557,400 passengers. The highest daily delivery volume was 574,300, which was the highest in history. During the Spring Festival of 2018, the total number of passengers arriving at the station ranked first in the country, with a total of 17.137 million passengers
Getting to and from Guangzhou South Station
Chinese/EN Name: 广州南站 / Guangzhou Nan / Guangzhou South Railway Station
Chinese/EN Address: 广东省广州市番禺区石壁街道石壁村 / Shibi Street, Panyu District, Guangzhou
Taxi
A taxi from Guangzhou South Railway Station to Guangzhou CBD (Tianhe) would take around 40 minutes and cost 70 RMB.
Guangzhou Metro
You can take line 2 and line 7 to the station. The metro station shares the same name as the train station – Guangzhou South Railway Station (广州南站). The metro station is inside the railway station so it is very convenient.
Metro Line 2  – Guangzhou South Railway Station – Jiahe Wanggang – hours: 06:00 to 23:30
Metro Line 7 – Guangzhou South Railway Station –University City – hours: 06:00 to 23:30
The metro from Guangzhou South Railway Station to Guangzhou CBD (Tianhe) would take around 50 minutes and cost 6 RMB.
See Guide to the metro and line map
Intercity Coach
The Guangzhou South Bus Terminal  (广州南汽车客运站) is located in the East Square of Guangzhou South Railway Station offering bus routes to Shenzhen, Dongguan, Zhongshan, Zhuhai and other places in Guangdong Province. See a schedule listed further below.
Local Public Bus
Guangzhou South Bus Terminal (广州南汽车客运站) : 288a, 301a, 303a, 309a,  k330,  k6,  k990, 3, 102, 20, 61, 79
Station Map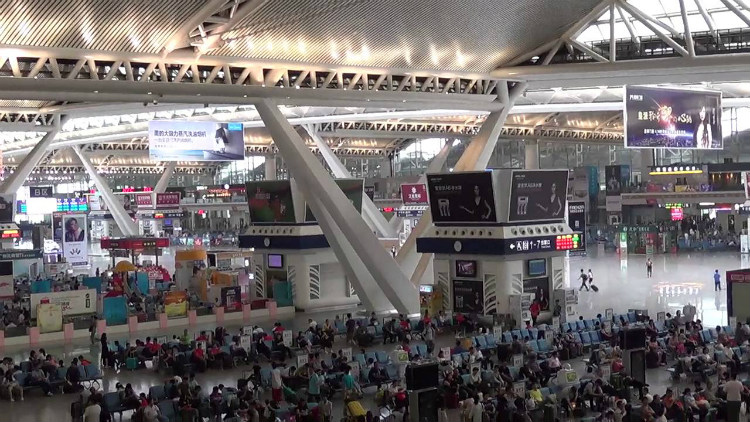 Station Guide
All station signage is dual language (CN/EN) and the process is straightforward. The station is large so please allow ample time for transiting from taxi to train, or metro to train.
The process: On arriving, head up to the ticket windows on the 3rd floor, after purchasing a ticket head to the departure hall entry and security check where you will show passport and ticket and luggage scan. Once you are in the departure hall check your train number against the large LED screen to see which gate to go through to board your train. Gates will open 15 min before train departure time.
3F floor
Function: pick up tickets, change tickets, drop off passengers, pit stop, security check, departure hall
2F floor
Function: boarding, getting off, transferring, drop-off, pit stop
Ground floor (1F floor)
Function: main arrival hall, purchase tickets, collect tickets, public transport, taxis, pick up point
Basement level (B1 floor)
Function: subway, parking, car.
Food
There are several fast food shops in the station, such as 72nd Street, Real Kungfu, KFC, McDonald's, SPR Coffee, Starbucks etc. , mainly located on the third floor (elevated waiting floor).
Buying a Train Ticket
At the station
1st floor – there are ticket offices in the northeast, southeast and southwest corners
3rd floor – in the northeast corner there is a ticket change office
You must show your passport to purchase a ticket. Tickets stop selling at 15 minutes before departure.
In the Guangzhou area
You can purchase tickets at train ticket offices ( 火车票代售点 – Huǒchē piào dài shòu diǎn) that are located throughout the city. Here is a Baidu map of ticket offices in Guangzhou.
Online
There are several third-party services that offer ticket booking in advance online and in English. Like ticket offices, online ticket sellers add a small fee, a popular choice is trip.com/trains/.
Where to stay near Guangzhou South Railway Station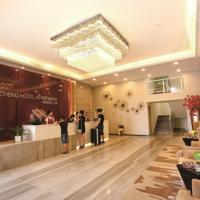 Featuring free WiFi throughout the property, Guangzhou Gaotie South Tiecheng Hotel is set in Guangzhou, 7 km from Chimelong Paradise. Jiangnanxi Station is 12 km away.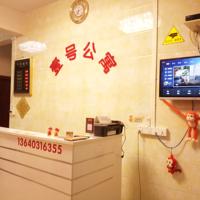 Guangzhou South Railway Station Number One Hotel is set in the Panyu district in Guangzhou, only 200 metres from Guangzhou South Railway Station and 7 km from Chimelong Paradise.
More hotel picks for near GZ South here.
Intercity Bus Schedule from Guangzhou South Bus Terminal (广州南汽车客运站)
| | | | | | |
| --- | --- | --- | --- | --- | --- |
| Line | Via | Terminus | Departure time |  Fare (RMB) | Mode |
| Shenzhen Shekou | Shajing Bus Station, Baoan Xixiang, Shenzhen University | Shekou Bus Station | 09:20-20:30 (every 2hrs) | 75 | Direct |
| Shenzhen Longgang | Songgang, Gongming L, Longhua Bus Station, Henggang | Longgang Bus Station | 11:00-21:55 (every 2hrs) | 80 | Direct |
| Shenzhen Longhua | Gongming L, Longhua Bus Station | Gongming Road intersection, Guanlan Bus Station | 10:10-19:50 (every 1.5 hours) | 75 | Direct |
| Shenzhen Buji | Putian Bus Station, Shenzhen North Railway Station | Buji Bus Station | 12:40-23:00 (every 2hrs) | 80 | Direct |
| Baoan, Shenzhen | Xinqiao Auto Parts City, Baoan New City Bus Station | Baoan Passenger Transport Center | 9:50-18:40 (every hour) | 65 | Direct |
| Shenzhen Baoan 2 line | Changan L, Shajing Bus Station, Fuyong Bus Station, Baoan Passenger Transport Center, Baoan Xixiang | Shenzhen Nantou Checkpoint | 08:50-22:30 (every 30min) | 65 | Direct |
| Shenzhen Shiyan | Songgang Bus Station, Gongming Road junction | Shiyan Bus Terminal | 10:40-19:00 (every hour) | 69 | Direct |
| Dongguan | Dongguan Main Station and Nancheng Bus Terminal | Dongguan Automobile Passenger Transport East Station | 7:40-22:30 (every 30min) | 51 | Direct |
| Fenggang, Dongguan | Zhangmutou, Tangxia, Fenggang Bus Station | Fenggang Bus Terminal | 10:00-22:00 (every 40 min) | 78 | Direct |
| Changping, Dongguan | Shilong, Shijie, Hengli, Changping | Changping Bus Terminal | 10:20-21:30 (every hour) | 70 | Direct |
| Dongguan Dalang | Dongguan East Bus Station, Liaobu | Dalang Bus Terminal | 9:00-22:40 (every 40min) | 65 | Direct |
| Qingxi, Dongguan | Dalingshan, Huangjiang, Qingxi Bus Station, | Qingxi Bus Terminal | 10:30-22:00 (every 1.5hrs) | 73 | Direct |
| Changan, Dongguan | Houjie, Humen Xiangkai, Chang'an | Changan Bus Terminal | 9:10-21:30 (every hour) | 60 | Direct |
| Dongguan Zhongtang | Wangniudun, Zhongtang Bus Station | Zhongtang Bus Terminal | 15:00 | 45 | Direct |
| Zhongshan Tanzhou | Xiaolan, Fuhua, Sanxiang | Zhongshan Tanzhou (Golden Bay) Station | 9:30-20:30 (every hour) | 50 | Direct |
| Zhongshan Ancient Town | Nantou, Xiaolan, Zhongshan Ancient Town | Zhongshan Guzhen Station | 11:35-19:35 (every hour) | 35 | Direct |
| Zhongshan Xiaolan | Nantou (Zhongshan), Xiaolan, Zhongshan Ancient Town | Xiaolan Bus Station | 10:35, 15:35, 20:30 | 35 | Direct |
| Zhuhai Sanzao | Doumen Station, Hubin Road Station, Sanzhao Bus Station | Sanzao Bus Terminal | 9:30-18:05 (every hour) | 68 | Direct |
| Zhuhai South Water | Doumen Bus Station, Pingsha, Nanshui | Nanshui Bus Station | 9:50-19:10 (every hour) | 76 | Direct |
| Zhaoqing | Zhaoqing Passenger Terminal | Zhaoqing Passenger Terminal | 9:20-20:40 (every hour) | 55 | Direct |
| Huaiji | Huaiji | Huaiji Yueyun Bus Station | 17:00 | 80 | Direct |
| Sihui | Sanshui Bus Station, Dawang Bus Terminal | Sihui Bus Station | 8:25-20:10 (every hour) | 46 | Direct |
| Yunfu | Yunfu Bus Station | Yunfu Bus Station | 18:15 | 70 | Direct |
| Luoding | Luoding Bus Station, Luojing Bus Station | Luoding Bus Station | 13:10 | 80 | ordinary |
| new | Emerging bus station | Emerging bus station | 10:30-21:00 | 70 | Direct |
| South Station Express (Zengcheng Guangyuan Line) | Phoenix, Xintang Bus Terminal, Xiancun (L), China Business School | Zengcheng Bus Terminal | 8:30-23:00 (every 30min) | 32 | ordinary |
| South Station Express (Zengcheng Guangyu Line) | Changping (Chang'an), Zhenlong, Zhongxin, Yangang, Zhucun, Yamada, Sanlian | Zengcheng Bus Terminal | 10:20-18:40 (every 40min) | 32 | ordinary |
| South Station Express (Conghua) | Changyaoling, Xinhe, Taipingchang, Shengang | Conghua Bus Station | 08:30-19:30 (every 30min) | 28 | ordinary |
| Huiyang fresh water | Chen Jiang (Chongqing Station), Huizhou Bus Station | Huiyang Bus Station | 10:50-19:00 (every 50min) | 90 | Direct |
| Huizhou | Boluo (L), Chen Jiang (Chongqing Station) | Huizhou Bus Station | 9:10-21:30 (every 40min) | 82 | Direct |
| Huidong | Boluo (L), Xiaojinkou, Huidong Bus Station, | Huidong Bus Station | 13:00, 14:25, 17:50 | 84 | ordinary |
| Huizhou Longmen | Yonghan, Nankun Mountain Grand View Garden, Shaying Xiangxi Fort, Longmen (Longhua) | Longmen Bus Terminal | 12:30, 13:40 | 71 | ordinary |
| Heyuan | Heyuan, Heyuan to Heping, Heyuan to Lianping, Heyuan to Zijin, Heyuan to Longchuan | Heyuan Bus Terminal | 08:20-18:00 (every hour) | 105-140 | Direct |
| clever | Lecong, Nanzhuang, Xiqiao | Gaoming Bus Station | 7:55-19:00 (every 50min) | 44 | Direct |
| Foshan Sanshui | Sanshui Bus Station | Sanshui Bus Station | 9:00-20:30 (every hour) | 30 | Direct |
| Shunde | Beibei, Luneng, Daliang Bus Station, Ronggui Bus Station | Ronggui Bus Station | 7:45-20:00 (every 50min) | 22 | Direct |
| Jiangmen | Jiangmen Bus Station | Jiangmen Bus Station | 08:50-20:50 (every hour) | 32 | Direct |
| Jiangmen Kaiping | Water outlet | Kaiping Bus Terminal | 8:55-20:50 (every hour) | 63 | Direct |
| Taishan | Siqian (L), Dajiang, Shuibu | Taishan Bus Station | 8:10-20:30 (every 1.5hr) | 70 | Direct |
| Heshan | Leliu, Longjiang, Longshan Bus Station, Jiujiang | Heshan Bus Station | 8:45-20:00 (every hour) | 43 | ordinary |
| Maoming | Lintou (Electric White), Maoming Bus Station | Maoming Bus Station | 09:15, 14:30, 16:15 | 110 | Direct |
| Gaozhou | Yangjiang Baisha, Maoming Bus Station | Gaozhou Chengdong Station | 9:00, 12:00, 16:30, 18:20, 19:40 | 120 | Direct |
| Huazhou | Yangjiang Baisha, Maoming Bus Station | Huazhou Bus Station | 8:10, 13:10, 15:10, 16:20 | 120 | Direct |
| Yangjiang | Yangjiang Bus Station | Yangjiang Bus Station | 12:00-18:30 (every 1.5hrs) | 80 | Direct |
| Yangjiang Zhapo | Yangjiang Bus Station | Yangjiang Zhapo Bus Station | 15:10, 17:10 | 100 | Direct |
| spring | Chunwan, Heshui | Yangchun Bus Station | 14:00, 16:00, 19:00 | 95 | Direct |
| Xu Wen | Ma Zhang, Tunxi, Leizhou, Xuwen, Hai'an | Xu Wen | 18:40 | 190 | Direct |
| Puning | Shanwei Pubian, Lufeng Xiahu, and Kuitan | Puning Chengxi Bus Station | 12:40 | 120 | ordinary |
| Jiedong | Kuitan, Gaobai, Chiwei, Hongyang, Jieyang Maya | Jiedong Bus Terminal | 12:30 | 140 | ordinary |
| Chaozhou | Shanwei Pubian, Lufeng Xiahu, Kuitan, Puning, Hongyang, Jie, Chaozhou | Chaozhou Bus Terminal | 9:00, 13:50, 16:00, 18:30, 20:50 | 150 | ordinary |
| Jieyang | Kuitan, Gaobai, Chiwei, Hongyang | Jieyang Bus Terminal | 10:00, 17:40, 18:40, 21:30 | 140 | ordinary |
| Shantou Chaoyang | Chaoyang Bus Terminal, Xiqiao | Chaoyang Guanyu | 11:15, 13:50, 17:50, 20:40, | 130 | ordinary |
| Qingyuan | Huadu (Shiling), Qingyuan Xincheng Bus Station | Qingyuan Xincheng Bus Station | 8:25-20:40 (every 1.5hrs) | 38 | ordinary |
| Hainan Sanya | Mazhang, Leizhou (L), Haikou, Qionghai, Wanning, Lingshui | Sanya | 16:30 | 260 | Direct |
| Nanning, Guangxi | Binyang, Nanning | Guangxi Nanning Jidong Bus Station | 17:00 | 300 | Direct |
| Meizhou Wuhua | Zijin, Anliu (Wuhua), Wuhua Shuizhai, Wuhua | Meizhou Wuhua Bus Station | 14:30, 15:55 | 120 | ordinary |
| Meizhou | Meizhou | Meizhou Bus Station | 17:00 | 170 | Direct |
| Jingmen, Hubei | Yiyang, Changde, Qixian, Public Security, Changsha, Jingzhou, Jingmen | Jingmen Bus Passenger Transport Center | 13:00 | 350 | Direct |
| Xinhui District | Xinhui District | Xinhui Bus Station | 10:00-17:10 | 25 | Direct |