From Guangzhou South Railway Station, you can take the new high-speed rail service to Shenzhen, and all the way into Hong Kong and West Kowloon Station. It is the High Speed Rail service known as Guangzhou–Shenzhen–Hong Kong Express Rail Link (XRL), or Guangshengang XRL.
Journey Time: Guangzhou South Railway Station (CN: 广州南) to West Kowloon Station (香港西九龙) takes between 54 minutes and 68 minutes.
Departures: Trains depart GZ South from 6.48 till 21:37
Cost: 
2nd class: 187 RMB
1st Class: 261 RMB
Business Class: 430 RMB
Prices fluctuate by a few RMB depending on which train. See further below for seating class guide.
Getting to Guangzhou South Railway Station
Chinese/EN Name: 广州南站 / Guangzhou Nan / Guangzhou South Railway Station
Chinese/EN Address: 广东省广州市番禺区石壁街道石壁村 / Shibi Street, Panyu District, Guangzhou
Taxi
A taxi from Guangzhou South Railway Station to Guangzhou CBD (Tianhe) would take around 40 minutes and cost 70 RMB.
Metro
You can take line 2 or line 7 to the station. The metro station shares the same name as the train station – Guangzhou South Railway Station (广州南站). The metro station is inside the railway station so it is very convenient. See Guide to the metro and line map
Example: From Zhujiang New Town Station take Subway Line 3 (direction of Panyu Plaza) 7 stops to Hanxi Changlong Station and change to Line 7 (direction of Guangzhou South Railway Station) 4 stations and get off at Guangzhou South Railway Station and take E exit into the railway station. Total time: 43 minutes, cost: 6 RMB
More about Guangzhou South Railway Station here
Trains on the Guangzhou-Shenzhen-Hong Kong High Speed Railway
The bullet trains are the Chinese made CH380A, CRH3C, CRH380BK, and CRH380BL. These trains have a top speed in excess of 350 km/h although on the Hong Kong section of the line they will run at 200 km/h (124 mph) and 300 km/h (187 mph) within mainland China.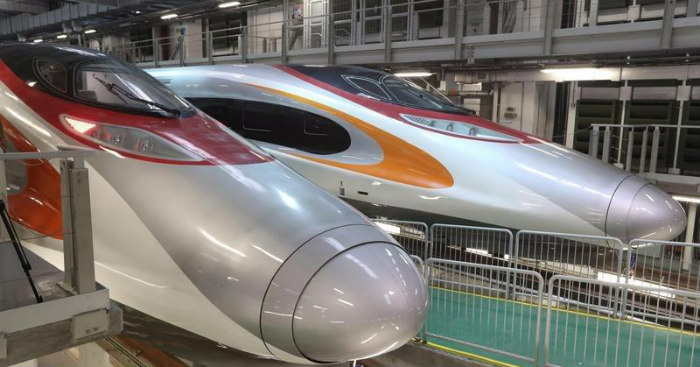 Below is an example of seating although some train units may differ slightly. Each carriage has its own toilet, washbasin, and hot water fountain. There is a large luggage space at the front of the individual carriage and overhead storage for light luggage.
The trains offer second class and first-class seats. Some select trains also offer premium class and/or business class.
Second Class Seats
First Class seats
Business Class
WiFi and power sockets
WiFi is free but limited to one 15 minute session while in Hong Kong. To connect to the WiFi you will need to enter a mainland China mobile number or use your WeChat account.
First-class and second class seats have power sockets available. Power sockets handle most all plug types.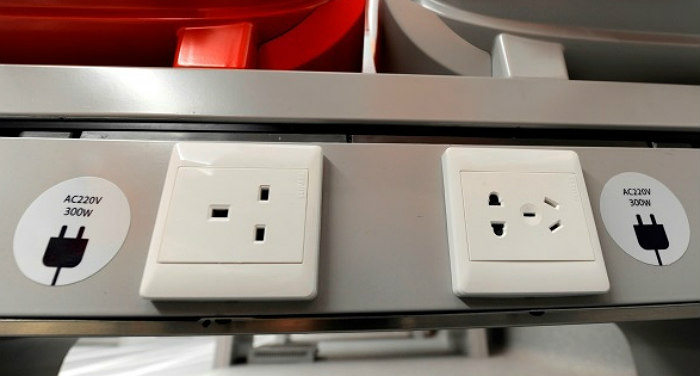 Notes and Tips
Arrive 30 mins before departure time to give enough time to clear entry security and get to the correct gate. GZ South Station is quite large but easy to navigate.
Gates for trains close 5 minutes before departure time.
All immigration procedures at handled at West Kowloon Station, to board the train you will require a passport.
Baggage limits:
Adult 20 kg
Child 10 kg
Diplomat 35 kg
The sum of the length, width and height of hand-carried baggage must not exceed 130 cm. For large parcels and luggage, there are services at the station who can ship them separately.
Stations on the GZ-SZ-HK XRL Line
Station 

CN

Metro Connection

Location

Guangzhou South

广州南

 GZ Metro Line 2, 7
Panyu, Guangzhou
Qingsheng

庆盛

 GZ Metro Line 4
Nansha, Guangzhou
Humen

虎门

 Dongguan Metro line 2
Humen, Dongguan
Guangmingcheng

光明城

Bao'an, Shenzhen
Shenzhen North

深圳北

 SZ Metro line 4,5
Bao'an, Shenzhen
Futian

福田

 SZ Metro line 2, 3, 11
Futian, Shenzhen
West Kowloon

香港西九龙

 
HK MTR Tung Chung line
Airport Express (via Kowloon)
West Rail line (via Austin)

West Kowloon, Hong Kong