Guangzhou East Railway Station is located to the north of the city center and offers high speed intercity trains to Shenzhen, and slower K, T, Z type trains to other cities including a service to Hong Kong.
If you are in the Guangzhou city center, this is the most convenient station for heading to Shenzhen. C type trains leave from here at regular intervals taking just over an hour to reach Luohu (Shenzhen Railway Station). You can also reach Hong Kong via this station in under 2 hours, although trains are limited. If heading to Hong Kong you may also choose to head to Guangzhou South Station and take the XRL line (48 mins to HK + travel time to GZ South Station).
Chinese Name: 广州东站  (中国铁路车站)
Address: 1 East Station Road, Linhe Street, Tianhe District, Guangzhou 广州市天河区林和街道东站路1号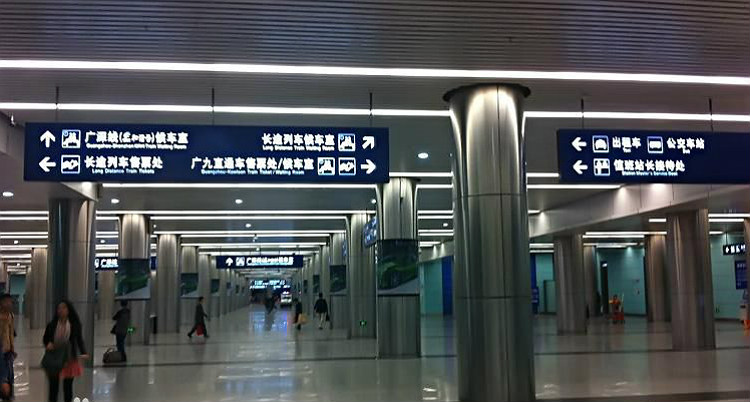 Train Schedule at mid-2018
Destination
Nos.
Duration Time
Ticket Price (RMB)
First
Second
Shenzhen
54 departures from 06:30 to 22:23
1h 14m- 1h 23m
99.5
79.5
Hong Kong
12 departures from 10:17 to 21:32
1h 53m- 1h 58m
206
173
Harbin West
Z236 at 19:50
34h 59m
1,060
628
Shanghai
Z100 at 18:12
15h 25m
685
377
Changsha
8 departures from 13:28 to 22:52
7h 22m- 8h 37m
349
246
Tianjin
Z14, Z236 at 17:10 and 19:50
22h 47m- 24h 42m
810
471
Beijing West
Z98 at 18:06
21h 24m
795
456
Zhengzhou
Four trains from 17:10 to 22:52
15h 31m- 17h 27m
619
373
Xiamen
K297 at 20:42
11h 15m
385
267
Shantou
T8379 at 15:13
8h 22m
246
180
Meizhou
Three trains from 09:40 to 20:42
5h 30m- 5h 44m
208.5
141.5
Nanchang
Four trains from 07:41 to 18:52
11h 47m- 13h 20m
443.5
255.5
Tickets
There are 12 windows in the new long-distance train ticketing hall. Two refund windows and two change windows are opened daily. For Hong Kong and Shenzhen trains head to the ticket office on 1F.
Getting to Guangzhou East Railway Station
Metro
Guangzhou East Railway Station is connected to Metro Line 1 (06:10-23:30), Metro Line 3 (06:00-23:30) and soon Metro Line 11 and Metro Line 18.
Public Bus
East Station Coach Station: 27, 32, 39, 60, 298, 508, 560, 776, 778, B18, B6 Express Line
East Station Bus Station: Tourism Bus Line 3
Taxi 
A taxi from Guangzhou city center (Tianhe) to Guangzhou East Railway Station would take around 24 minutes and cost around 18 RMB.
Intercity/Long Distance Bus
Guangzhou East Railway Station Bus Terminal (广州交通集团东站汽车客运站) is located 50 meters west of Exit H of Guangzhou East Railway Station. There are buses to Shenzhen, Dongguan, Yangjiang, Zhongshan, Zhuhai, Foshan, Qingyuan, Jiangmen and Shantou.
Nearby Guangzhou East Railway Station
POPARK东方宝泰购物广场 is a large four-floor mall with lots of eateries and Aeon supermarket adjacent to the station.
One station away on line 3 is Zhongtian Mall 中天购物城
The city center and CBD is only 10 minutes away by metro
Hotels near Guangzhou East Railway Station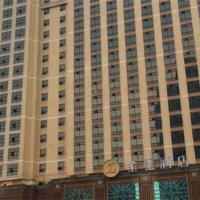 Featuring free WiFi throughout the property, JI Hotel Guangzhou Tianhe East Railway Station offers accommodation in Guangzhou, 800 metres from CITIC Plaza. The rooms include a flat-screen TV.
Strategically located within Guangzhou's Central Business District, Jianguo Hotel Guangzhou offers quick and easy transportation links while its facilities include an outdoor pool.