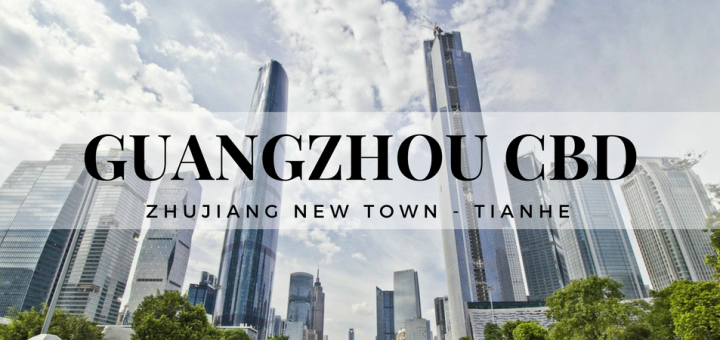 The new modern heart of Guangzhou lies in the booming area of Zhujiang New Town which is located in Tianhe District of Guangzhou.
In Tianhe Central Business District you'll find the Guangzhou Opera House, the second Children's Palace, the new Guangzhou Library, Guangdong Museum, the Twin Towers being the Guangzhou International Finance Center and the Guangzhou Chow Tai Fook Finance Centre, and the spectacular Canton Tower is located just across the river from the central area.
You'll also find the US Embassy here, and the Australian Consulate, Kuwait Consulate, and the Cuban Consulate.
The Top Ten Hotels in the Guangzhou CBD (Zhujiang New Town, Tianhe)
---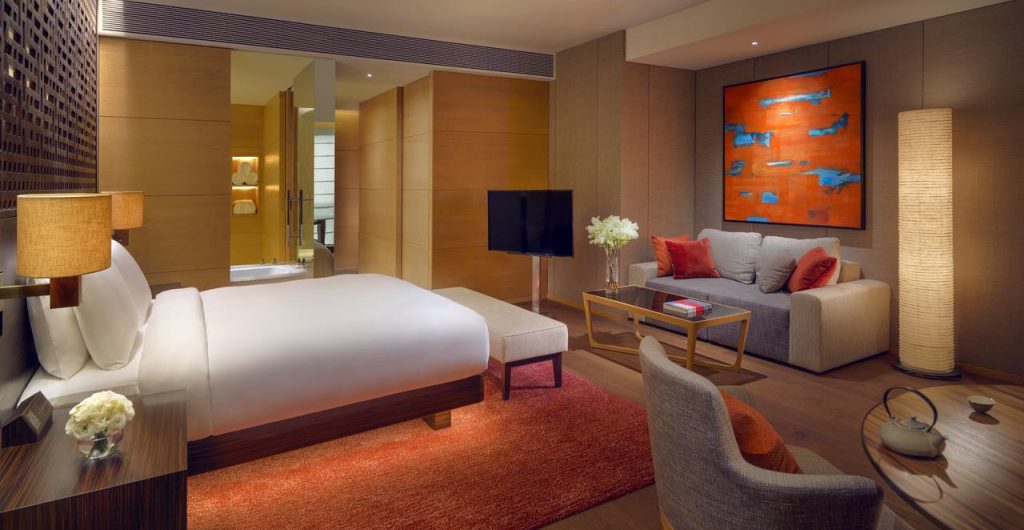 5 star – Park Hyatt offers an outdoor roof-top bar on the 70th floor with stunning views, an indoor swimming pool, a fitness centre, spa, steam room, sauna, jacuzzi, bar, and buffet restaurant.
---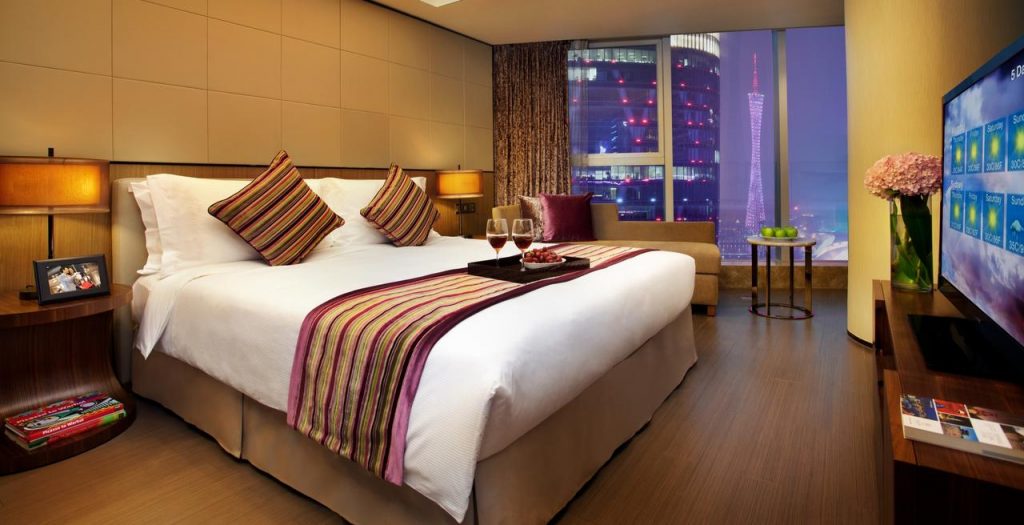 5 Star – The Ascott offers large luxury apartments with kitchenette and clothes washer/dryer. Facilities include a gymnasium, sauna, large swimming pool, rooftop mini golf, and restaurant onsite. They offer a free shuttle to the Canton Fair when it's in session and it's just steps away from Pearl River New Town Station on metro line 1 and 5. They offer one, two and three bedroom options.
---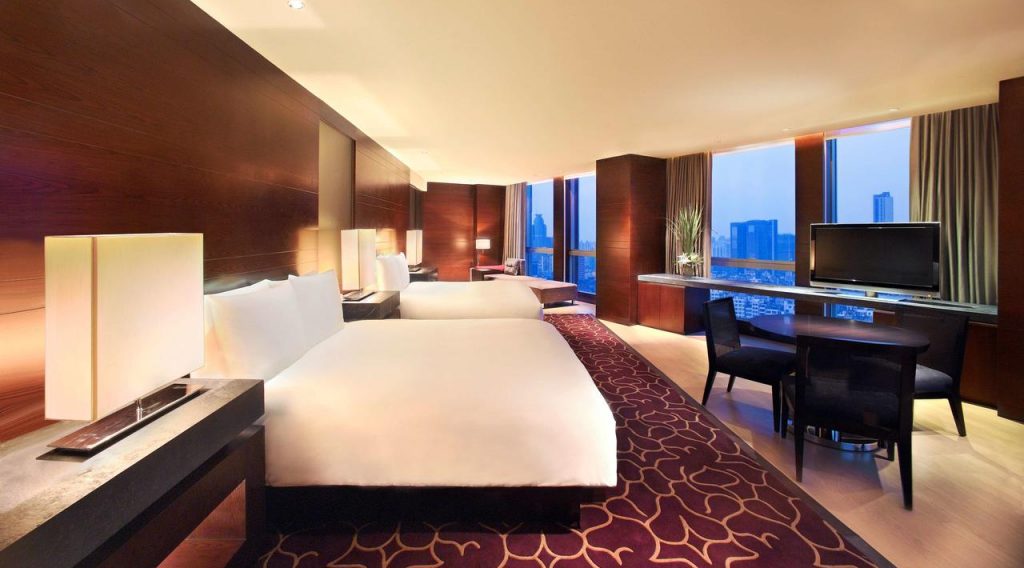 5 Star – The Grand Hyatt offers a modern gym with several machines, sauna, cold pool and hot pool, swimming pool (that has music playing underwater!), and a highly regarded spa (rooftop O spa) that offers views over the city. There are two popular restaurants onsite, a cafe, and bar. It's walking distance to Pearl River New Town Station on metro line 1 and 5, and the central APM line.
---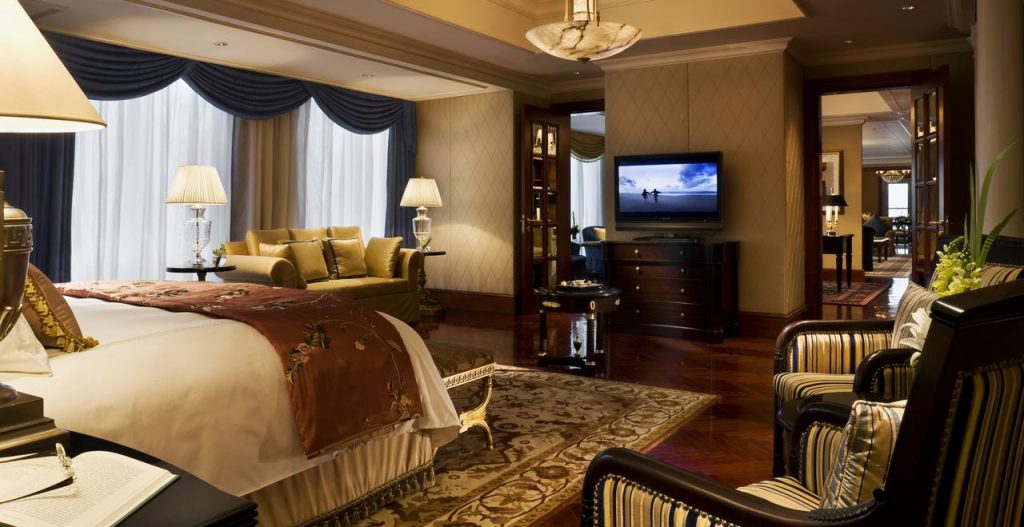 5 Star – The Ritz-Carlton has four onsite restaurants inc. Lai Heen specializing in Cantonese, Limoni specializing in Italian, Foods offering an international buffet for breakfast lunch and dinner, the Pearl Lounge offering afternoon tea, and the Churchill bar for imported cigars, malt whiskey and nightly pianist. They also offer a high-end spa, 24 hr gym, heated pool, sauna, and more. Its a short stroll from Grand Theatre Station on the APM line.
---
5 Star – The Four Seasons Hotel Guangzhou is an aesthetically stunning hotel that offers rooms with superb views. They also offera gymnasium, infinity swimming pool, sauna, a high-end spa, and more. For restaurants, there are several options inc. Yu Yue Heen (Cantonese cuisine), Catch Seafood Restaurant, Kumoi (Japanese), and for casual dining there's Caffe Mondo, Tian Bar, The Atrium and Executive Club Lounge. Rooms are large. It's a short stroll to either the APM line or metro line 1 or 5 at Pearl River New Town Station.
---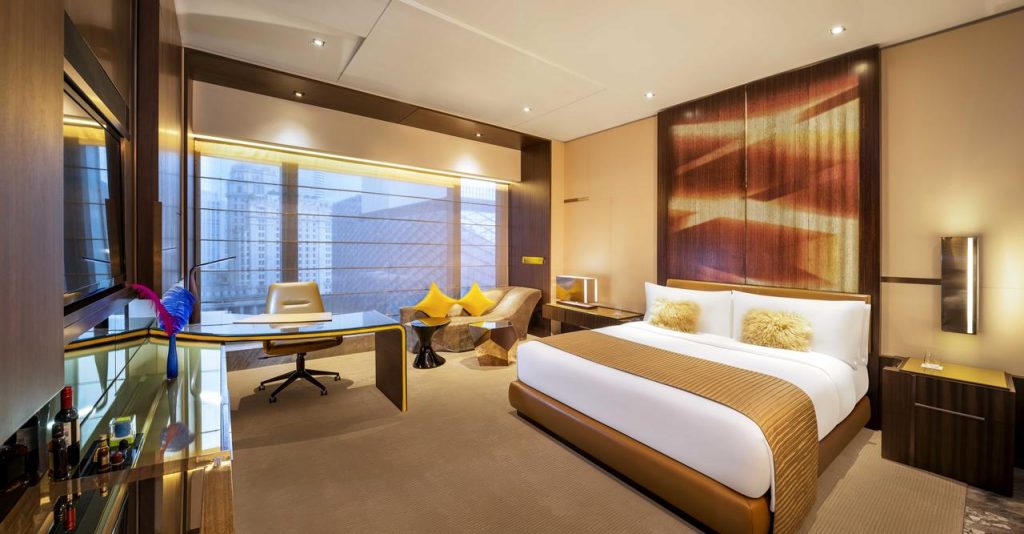 5 Star – The W Guangzhou is home to the Kitchen Table buffet resaurant, Yan Yu Cantonese restaurant, and I By Inagiku Japanese restaurant. It is also home to AWAY spa, along with steam room, sauna, and vitality pool. There is a heated swimming pool with bar, and the WOO bar for a fun night. They offer large rooms and family rooms.
---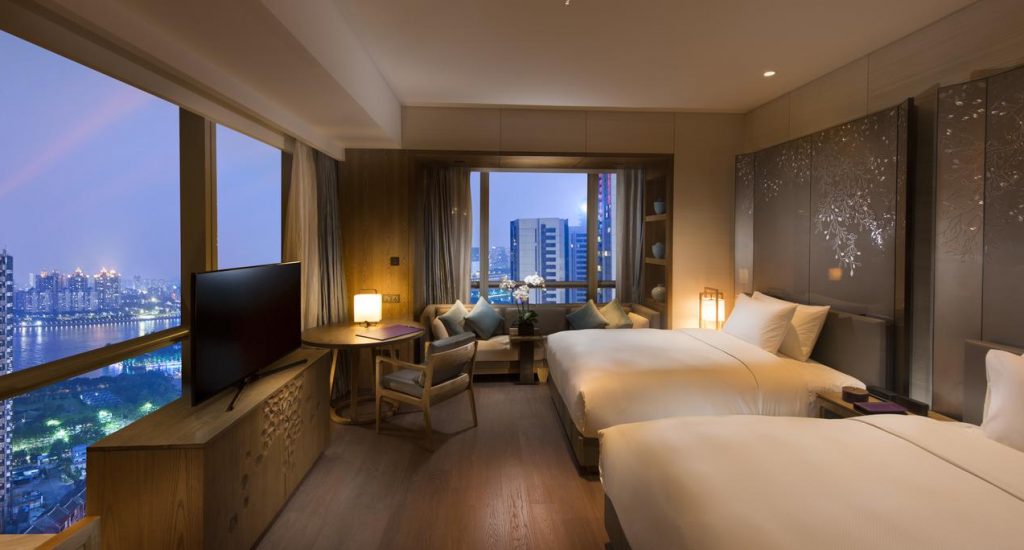 5 Star – The Conrad Guangzhou is very new and also offers great views from some rooms and a stunning lobby. They offer swimming pool, sauna, modern fitness center, jacuzzi, steam baths, and ice fountains. There are 3 restaurants inc. Sense offering ala carte and buffet, Aroma for Meditteranian cuisine, and Yun Pavillion for Cantonese cuisine. There is Mg bar which offers an outdoor area for views over the city below. They offer family rooms.
---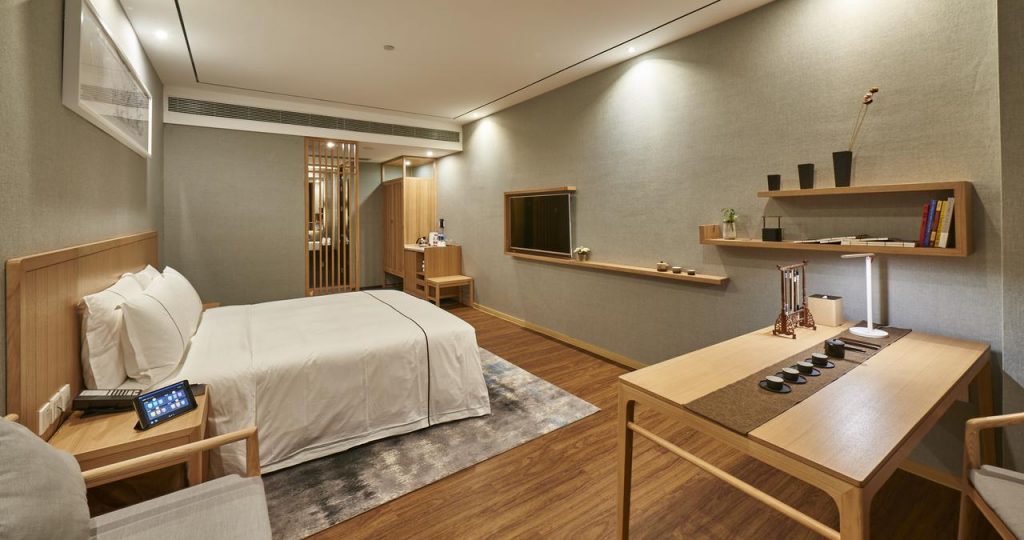 4 Star – The Hlife Hotel is quite new and is located an easy short walk from Pearl New Town Station on metro line 1 and 5, and close to an APM line station. They offer family rooms and have an onsite buffet/ala carte restaurant.
---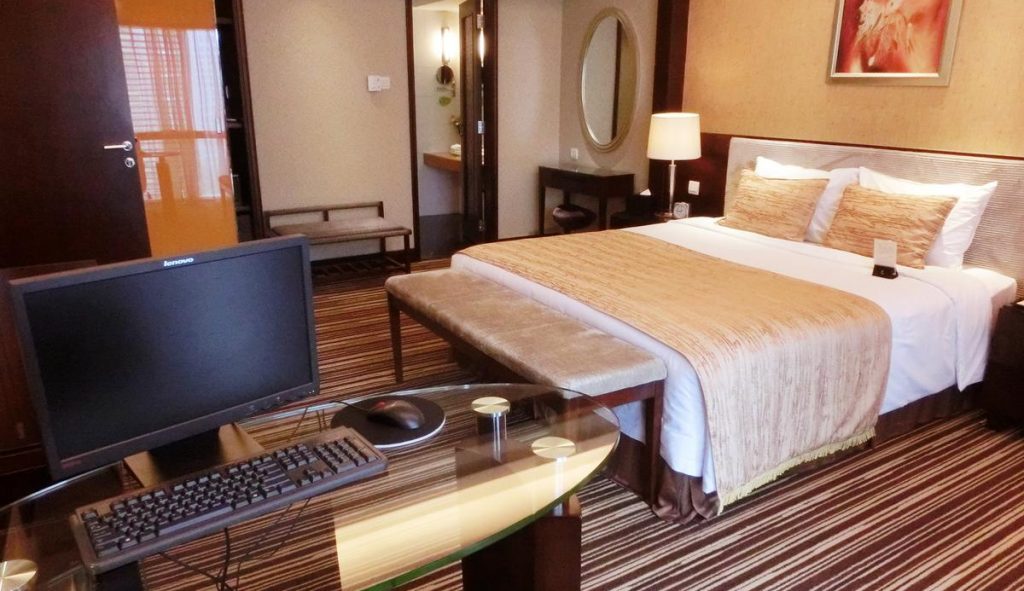 4 Star – The Leeden Hotel offers a swimming pool, massage, spa, a decent gym, billiards table and onsite restaurant with Chinese, Japanese, and Western cuisines. They have family rooms. A short 5 min walk from the metro station.
---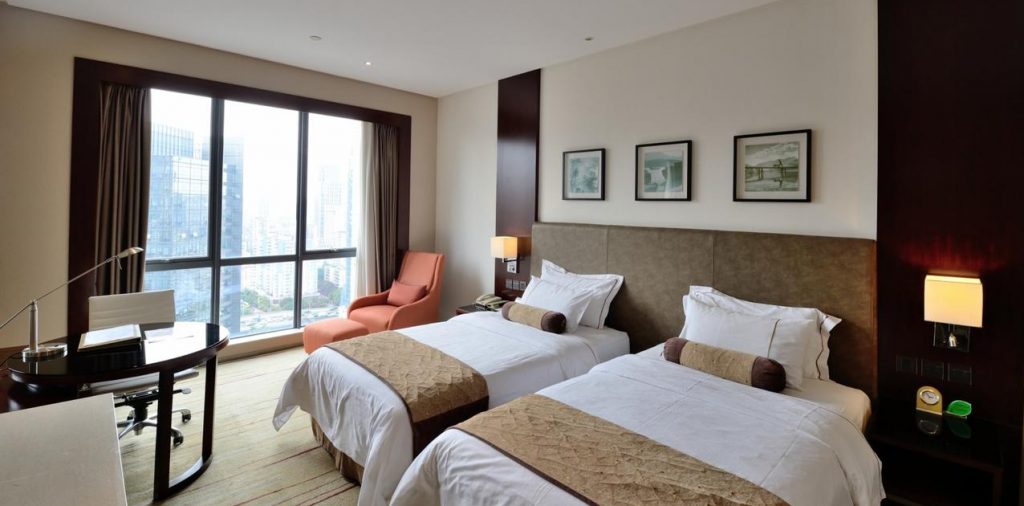 4 Star – The Victoria Hotel offers an onsite spa with massage services, sauna and jacuzzi. There is an onsite restaurant for Western and Chinese cuisine, plus a Starbucks within the building. The downside with this hotel is the distance to the metro station.
---
I will also recommend a few hotels outside the CBD, but near the metro, which are convenient and offer great value. The Sheraton Guangzhou Hotel is perhaps the best value of all the western 5-star hotels, near to major shopping malls and metro station. China Mayors Plaza is a four-star hotel located steps away from Linhe West Station which connects you to line 3 and the APM line. The Fortune Hotel just steps away from Ganding Station on line 3 and offers great value for a central four-star hotel.