Grandview Mall Guangzhou 正佳广场
Located at the heart of the Tian He business area, one of the most prosperous business area in South China, Grandview Mall 正佳广场 is a modern shopping center, covering retail, leisure & entertainment, catering, exhibition, and business. The mall attracts 2 million tourists here every year, there is no way for you to miss here.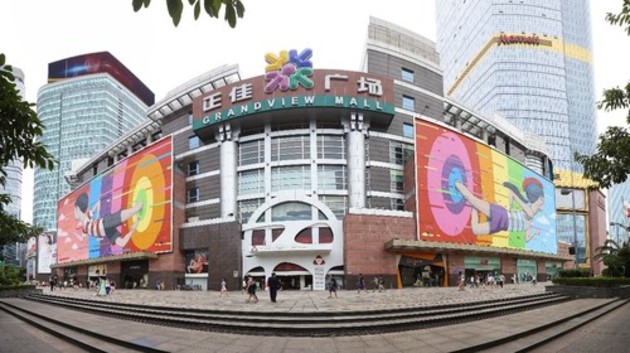 With totally 1500 parking spaces, the mall is always so convenient for customers. Possessing of a total shopping area of approximately 300,000 square meters, the mall provides all kinds of goods of more than 1000,000 brands. Whatever you need, you can find here.
With so large a space Grandview Mall of Guangzhou can be called the paradise of trendy people, including many international fashion brands, such as Esprit, H&M, Koradior, Urban Renewal, Cabbeen, Ochirly, Jack&Jones, Only, Vigoss, Levi's and Artini. If you want to buy a good watch, you can also find brands such as Tissot and Citizen here.
There are more 40 restaurants here, covering Chinese Cuisine, Asian Cuisine, Western Cuisine and fast food. For people want to eat quick and convenient, there are McDonald and PizzaHut. For people who want to enjoy their dinner in cozy environment, there are many upscale Chinese Restaurants for you.
What can you get there: cosmetics, jewelry, fashion clothes, watches, spa, physical fitness service, electronic goods and much more.
Price: about 239 RMB per person.
Website: www.zhengjia.com
How to get there:  Metro Line 1, Tianhe Sports Center Station or Tianhenan Station
Address: Numb 228, Tianhe Road, Tianhe District. 地址:天河区天河路228号
Map Location featuring hotels near Grandview Mall