Laperle Plaza Guangzhou 丽柏广场
Le Perle plaza 丽柏广场 is located at the core business center, on the East of Huang Shi Road, along with Garden Hotel, Bai Yun Hotel, and the Friendship Store, it is a high-end shopping mall. Because of its good position, it attracts a lot of famous high-end luxury brands.
Brand names that can be found here include Louis Vuitton, Hermès , Prada , Dior , Fendi , Celine, Burberry, Hugo Boss, Lanvin, Ermenegildo Zegna, Givenchy, Polo Ralph Lauren, Versace, Charriol, Tommy Hilfiger, D&G and Versus etc. Among those top brand, some of them opened their first stores here including Hermès, Prada, Celine, Hugo Boss, Versace and D&G.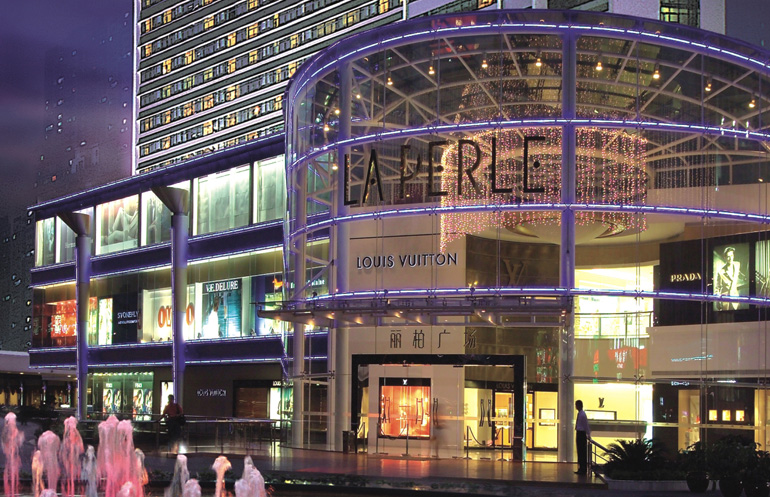 The building is designed by the famous designer Concept International Design Limited. The name La Perle comes from French word, means pearl, a reference to the Guangzhou Pearl river. In order to provide a good environment for their customer, they hired an international estate management company and several marketing specialists to evaluate the development of shopping mall in China, and executing a marketing plan.
The other thing is very impressive that it has built a CRM department to keep close communication with customer. In order to have a better service, it has built a website to update news and interact with customer – www.laperle-global.com
Like most malls in China, it's open from 10:00 – 22:00
Address: No.367 Huanshi Dong Rd, Yuexiu District  环市东路367号
How to get there?
Bus 10,14,29,59,64,82,86,87,88,180,183,253,519
Metro Line 5 Taojin Station
Map Location featuring hotels near Laperle