Beijing Road 北京西路 – Guangzhou's #1 Shopping Street
Located in the center of Guangzhou, Beijing Road is a cultural, entertainment and commercial street. Not just any shopping street, it is the most prosperous in the history of Guangzhou. The average daily visitor number here is a staggering 400,000 people, and that's on a normal day. During public holidays that number could be 600,000 and beyond.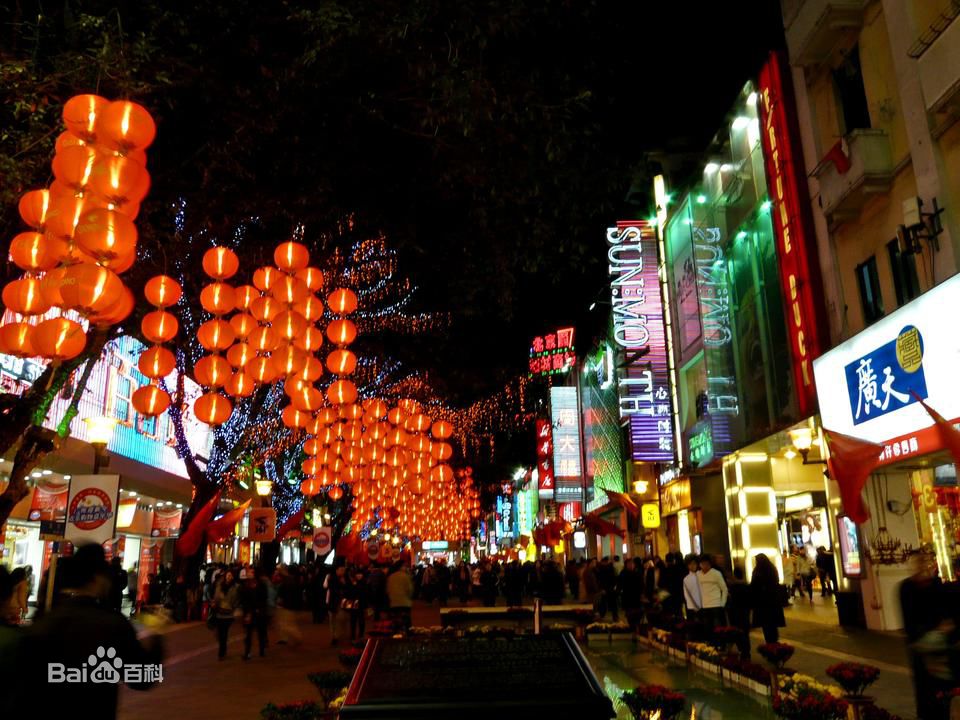 The full length of Beijing Road runs from Guangwei Road in the north, to Yanjiang Middle Road in the south and the Beijing Road Commercial Pedestrian Street section runs from Zhongshan Road to Wenming Middle Road. There are also shops to the east and west of the main pedestrian section.
The street is quite famous in Guangzhou having a long history dating back to the Qing Dynasty, in the 1920's it was named Wing Hon Road, later to be renamed Han Road after a famous national leader, only to be renamed again in 1949 with the rise of the Chinese Communist Party, and the name remains today.
You can actually see that historic beginning, which still lies underneath the road that's walked on today. In the pedestrian section, there are large glass panels and you can look down into and excavation which reveals the historic road from the times past.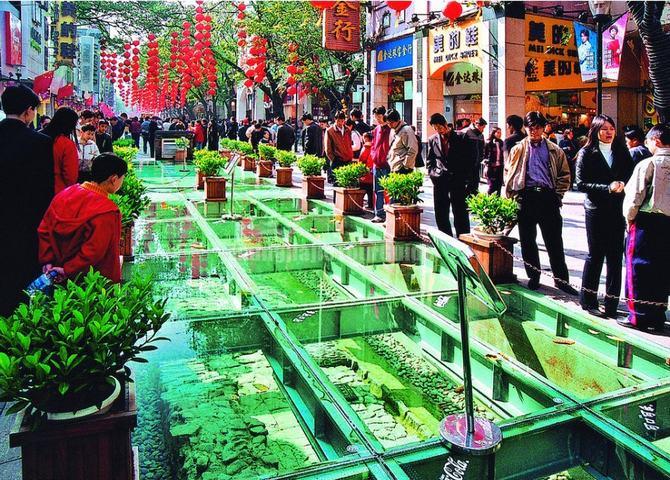 Beijing Road is now a mix of history and modernity, there are some stores that have been going for one hundred years amongst the newly built malls and superstores. In this shopping mecca you can find, all kinds of shops, as well as restaurants, cultural and entertainment venues and banks, a total of more than 500.
Along the street, you will find clothing & fashion outlets, department stores, footwear, restaurants, jewelry, leather goods stores, boutique shops, department stores and large shopping malls. Modern large department stores include Daxian Department Store, Guangzhou Department Store, Ginza, Mayflower Commercial Plaza and other large stores.
For local food, Cantonese cuisine rules the roost and you'll find snack stalls selling such things as Beef Offal Stew but if you are not that adventurous, try some of the sweet sesame and sugar snacks that are handmade in front of your eyes, or head to a Dian Xin 点心 (aka Yum Cha) restaurant which is everyone's favorite.
Other historic attractions on and near Beijing Road include:
Big Buddha Temple (大佛寺Da Fo Si) – built between 917 and 971 A.D.
Address: No.21 Xinhuizhong Street, Yuexiu District, Guangzhou – 地址:广州市越秀区21号新惠中路
Chenghuang Temple (城隍庙Cheng Huang Miao) – over 600 years old..
Address: No.48 Zhongshan Si Lu, Yuexiu District – 地址: 广州市越秀区48号中山四路
Lu Jiang Academy (庐江书院 Lu Jiang Shu Yuan) – built in 1808 as a book repository and now study centre.
Address: No.29 Liu Shui Jing, Xihu Lu, Yuexiu District 地址: 广州市越秀区29号流水晶西湖路
Sun Yat-sen Bibliographical Center (孙中山文献馆 Sun Zhongshan Wenxian Guan) – Originally built in 1933 for storing documents and books, this museum is designed in the classical style of a Chinese garden.
Address: No.81 Wende Lu, Yuexiu District – 地址: 广州市越秀区81号文德路
Taiping Guan (太平馆) – Dating back to the 1820's this was Guangzhou's first western restaurant.
Address: No. 342 Beijing Lu, Yuexiu District – 地址: 广州市越秀区342号北京路
San Duo Xuan Stationary (三多轩文具) – dating back to the 1820's this shop still sells traditional rice paper and ink.
Address: No.89 Wenming Lu, Yuexiu District, Guangzhou 地址:广州市越秀区89号文明路
Chen Li Ji Pharmacy (陈李济) – a pharmacy that dates back over 400 years, recently reopened.
Address: 4th floor, Yinzuo Square, Beijing Lu, Yuexiu District 地址:广州市越秀区北京路银座广场4层
The Site of Nanyue Kingdom Palace (南越国宫署遗址) – excavation site with the ruins of a circa 3rd-century BC royal palace & an artifacts museum.
Address: 316 Zhongshan 4th Rd, Yuexiu District
Getting there:
Beijing Lu Pedestrian Street (北京路步行街 běi-jīng-lù) Take Metro 1 or 2 to Gong Yuan Qian Station and take Exits C or D)
Hotels
It is a convenient area to base a trip in Guangzhou and you can check our top picks for hotels on Beijing Road here, and they are also on the map below.
Beijing Road Attraction and Hotel Map
The pedestrian section of Beijing Road is outlined in blue and attractions with red pins.