Mega Mall (Xinguang City Plaza)
Located at the heart of the traditional business area of Guangzhou, Mega Mall is adjacent to the famous attractions-Chen Clan Temple and Shang Xia Jiu Pedestrian Street. With the unmatchable location, it has become the first shopping choice of people in West Guangzhou.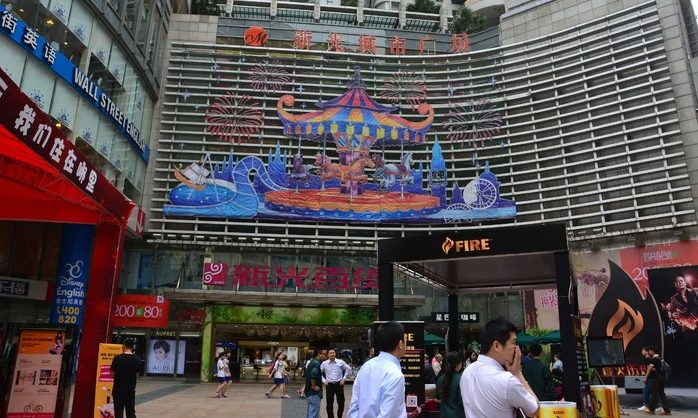 With a focus on fashion, Mega Mall possesses of a total area of 20,000 square meters, providing approximately 220 brands. Besides, you can find the most famous KTV of Guangzhou, the NEWAY here.
Simgo Department Store can be called the home of fashion as there are many trendy brands gathering here, including Only, Esprit, Morgan, Veeko, Vero Moda, Ebase, Wanko, Jack&Jones, Mark Fairwhale, Baleno, S&K, Bossini, Giordano, Converse, Adidas, Nike and Staccato. If you are a trendy person, then there is no way for you to miss here.
The restaurants here are also pretty awesome, including many restaurants with a different flavor, ranging from Asian to European. You can easily find famous food chain like Starbucks and KFC here; if you want some special flavor, there are also many special Chinese Cuisine Restaurants for you to choose.
What can you get there: cosmetics, jewelry, fashion clothes, watches, electronic goods and much more.
How to get there:  Metro Line 1, Chen Clan Temple Station.
Nearby Hotel Picks: Super 8 Hotel (value)
Chinese Name: Xinguang City Plaza 新光城市广场(荔湾店)
Address: Numb 666, Kangwang Centre Road, Liwan District. 地址:荔湾区康王中路666号
Map Location featuring hotels near Mega Mall
Details
EN Address: address="No.557 LongJin Middle Road, LiWan District, , Guangzhou" title="Guangzhou Hua Tian Hotel" body="


No.557 LongJin Middle Road, LiWan District Guangzhou
Rating: | Consumer Rating:
Av. Low Rate: 168.0000 CNY
More Info & Latest Rates

" point_lat="23.1238794500000000″ point_lng="113.2451441000000000″ iconid="hotel_0star.png"
More things to do by type
More things to do by district
More things to do by nearby Metro Station