万菱汇 OneLink Walk
Located at the heart of Tianhe District, OneLink Walk is a multifunctional shopping mall, covering fashion clothes, trendy accessories, house appliance, beauty service, watches & jewelries and fine dining. Possessing of a total construction area of 230,000 square meters, here is definitely a shopping paradise.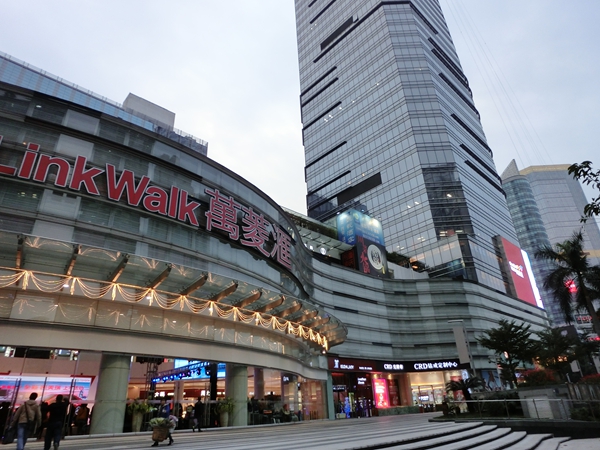 There are many international young fashion brands here, including Zara, Mango, Iwode, Cabbeen, Massimo Dutti, DAZZLE, BC Voga, Five Plus, Esons, Jolie&Deen, Me&City, Maxpoint, Mysheros, New Balance, Ochirly, Ozzo, Oxygene Monde, K-Boxing, HIM, Qunha, Mego Style, Viva Voce, Vennger, Miss Jane, Elle and Calfland. Some of the brands can only can be found in this mall, you can find your own fashion mark here.
If you want to buy watches & jewelry, one of these stores will be your choice: Lngines, CRD, Jade Factory, Smara Jewel, Balco, Chow Tai Fook or Shining House. For people who need beauty service, there are many professional stores here, such as Catilo, Hair Code, Herborist and Watsons.
The restaurants here are also pretty awesome. With more than 20 restaurants, covering flavor from East to West. Whatever you like, you won't be disappointed here. Highly recommend the Double Star and Daiwo Sushi here. The former one is a Hong Kong restaurant, offering delicate and delicious Dim Sum; Daiwo Sushi is an authentic Japanese Sushi Restaurant.
What can you get there: cosmetics, jewelry, fashion clothes, watches, electronic goods, house appliance, beauty service and much more.
How to get there:  Metro Line 1, Sport Center Station or Line 3 Shipaiqiao Station
Address: Numb 230-232, Tianhe Road, Tianhe District. 地址:天河区天河路230-232号
Map Location featuring hotels near OneLink Mall