Baima Clothing Market Guangzhou 白马服饰批发市场
Baima Clothing Market 白马服饰批发市场 is located beside the railway station, and 2 Coach Terminals, so transportation is very convenient.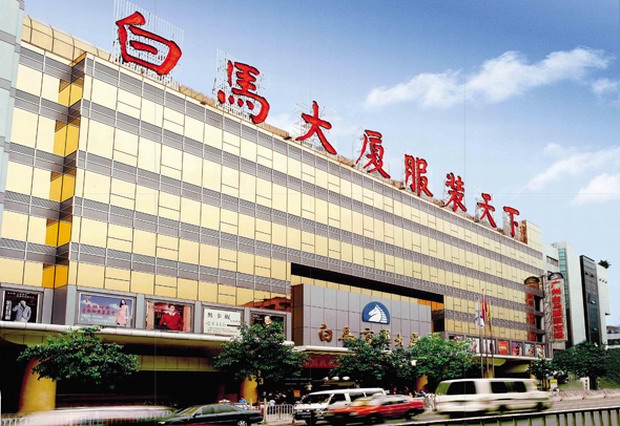 Bai Ma Clothing Market was built in 1991. It was opened in 1993 with 6000 square meters, 10 floors including 4 floors of shopping mall. Very new and modern facilities, broad aisle, a wide stage for T show, bank, business center, Parking, restaurant and more. It provides a very comfortable environment for shopping. More than 10 thousands of daily traffic, the annual revenue is more than 30 billion yuan. It is the largest Clothing marketing in Guangzhou.
Guangzhou is famous for clothing markets, and Bai Ma is the largest and most important one. Retail and wholesale are acceptable, but most of people come here for wholesale only, you can order the particular item, the minimum order is 100 pieces, that kind of small order will take no more than 15 days, you can pick 1 piece per style, the prices will be higher than order, but lower than retail.
After visiting Baima Clothing Market, you can walk around, because there are many markets surrounding the area. See more markets in the Guangzhou Railway Station area.
Highlights:
The female sales on 1st floor are very beautiful.
How to get there –
Metro: Line 1, Line 2, or Line 5, Get off at Guangzhou railway station
Bus: B2A, B2, B10, 30, 52, 180, 201, 210, 211, 228, 254, 257, 275, 529, 550, 552, 803, 803A, 805, 807A, 807, 840, 862, 862B
Address: 16 Zhannan Road, Yuexiu – 站南路16号 near Guangzhou Railway Station 广州火车站
Nearby Hotel Pick: Insail Hotel (3 Star)
Map Location
More things to do by type
More things to do by district
More things to do by nearby Metro Station